Thousands of Californians March In Largest Ever Anti-Frack Protest, Calling For Statewide Ban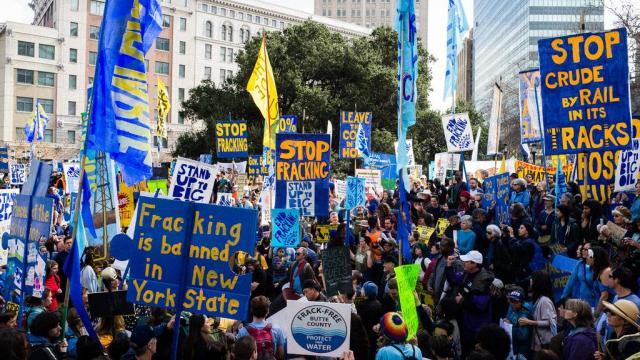 More than 5,000 Californians marched Saturday through the streets of downtown Oakland calling on Gov. Jerry Brown to fulfill his promise as a climate leader by enacting an all-out ban on fracking in the state.
While some estimates put the number of participants at 8,000, the "March for Real Climate Leadership: Our Water, Our Health, Our California" on Feb. 7 represented what KPFA News called the largest ever anti-fracking march in U.S. history. Top on people's minds was New York Gov. Andrew Cuomo's recent decision, in December, to ban fracking across New York State – something activists here want to see replicated.
"We've let the oil companies do whatever they want in California for the last 100 years. Drill wherever they want to, frack wherever they want to, dump wastewater wherever they want to. If we're going to be clean energy leader, we can't be facilitating dirty energy production," said Andrew Grinberg, oil and gas program manager at Clean Water Action in Oakland.
However, it's a "way bigger lift" to achieve a fracking ban in California than it was in New York, he said, due to the extreme power oil companies hold in the state. California's oil industry lobby, led by the Western States Petroleum Association, spent $15 million last year to defeat SB1132, a bill that would have banned hydraulic fracturing here while superceding SB4 – the 2013 measure which codified weak fracking regulations into law, by mandating groundwater monitoring, the disclosure of fracking chemicals, and requiring permits to frack.
Gov. Brown said last month that robust efforts to cut carbon emissions and fight climate change would galvinize his fourth and final term in office. Many in the environmental community have commended Brown's strides on climate. But his financial closeness to the fracking industry, and his resistance thus far to curb its growth, leaves many skeptical.
Nonetheless, marchers on Saturday, who left Frank Ogawa Plaza shortly after noon and wound their way through Oakland's downtown streets toward the rally's end point on Lake Merritt, said New York was now the model to follow. "If New York can do it, so can we," said Marissa Mommaerts of Transition U.S.
Diversity was a hallmark of the Oakland demonstration, which included scores of children, families, seniors, college students, Native American organizers, Latino community groups, nurses associations, union workers, religious affiliations, and representatives from national non-profits like the Sierra Club, Food & Water Watch and 350.org, which helped organize the event.
At times the air was a sea of bobbing signs, spelling out messages like: "End Fossil Fuels," "Stand Up to Big Oil," "Gov Brown Don't Frack California," "Crude-By-Rail Safety & Climate Disaster," "If U Must Frack, Try Mars," "System Change Not Climate Change," "We Want Local Clean Energy & Jobs," "Extinction Event Ahead," "Brown Listen to Science Not Carbon Polluters," and "Leave the Oil in the Soil."
Almost everyone who joined the protest talked about water – both its scarcity here due to drought, and its contamination due to fracking – as a primary reason to impose the statewide ban.
"We believe that the Earth is sacred, and climate change is upsetting the natural order of God and making it increasingly uninhabitable for life," said Jack Macy, a Unitarian Church member from Berkeley. "Fracking is a very extreme and dangerous way of getting energy: it uses a huge amount of water, creates a huge amount of pollution, and there's evidence of health impacts. New York has banned it – we think California should, too. Real climate leadership means banning fracking in a state where water use is precious."
Echoing him was a Buddhist priest named Stephen, from Marin County, who said, "I want to save the planet. To ruin our drinking water in order to have gasoline doesn't make sense to me. It's a violation of the Earth: destroying the climate and destroying water."
Health Impacts from Fracking
James, a homeless military veteran living on the streets of Oakland, and a member of Veterans for Peace, came to the march, he said, because "everything they're doing with the oil industry is just insane. Fracking is poisoning the water. We're seeing sinkholes we've never seen before. If our water is poisoned, we can't live."
In response, movements are now afoot statewide to ban fracking on city and county levels. San Benito, Santa Cruz and Mendocino counties all enacted fracking bans last year. In southern California, anti-fracking campaigns are burgeoning from Orange and Ventura to Los Angeles, San Luis Obispo, Monterrey and Kern counties. In several weeks, two cities in L.A. County will vote on whether to impose a fracking ban
Currently about 1,000 wells are fracked annually in California. Nearly all of them are in Kern County, a sprawling area close to the size of New Jersey with a population of just under 1 million, which has its administrative seat in Bakersfield. In recent years, the health impacts from fracking in the area have become severe, and measurable.
Juan Flores, a community organizer with the Center on Race, Poverty and the Environment in Kern County, said "communities in the Central Valley have long been impacted by different environmental issues – pesticides, poor air quality, and now fracking. We're here marching and protesting in the hope that Governor Brown as well as Governor Cuomo believes that fracking must be banned."
Anabel Marquez, a resident of the small city of Shafter and a member of the Committee Against Fracking in Kern County, said she's seeing children in her city increasingly come down with respiratory and skin illnesses. "I'm here representing Shafter, one of the most contaminated communities [in the state]. Fracking surrounds our schools, homes, parks, churches – this can't be happening!" she implored.
According to Barbara Sattler, a nurse with the Alliance of Nurses for Healthy Environments, who teaches at the University of San Francisco and is a spokesperson for Physicians for Social Responsibility, 15 million Americans now live within one mile of a fracking site. "It's already making people sick. This is not something in the future," she said. "Babies born in fracking areas have lower APGAR scores," which measure the health of newborns. Now, due to an emerging literature and science showing the harmful health effects of fracking, the American Nurses Association has joined the call for a national moratorium on the drilling process.
But fracking wasn't the only issue that drew people to march in Oakland over the weekend. Avaid Danga, a man in his fifties, works with Benecians for a Safe and Healthy Environment, in the East Bay city of Benecia whose community is battling corporate attempts to run crude oil trains through the area. "The Valero refinery is trying to bring two trains with 50 cars each day filled with Bakken crude. The trains they're using aren't secure – it's basically a bomb on a train," Danga said.
"Some of the areas it crosses is where our drinking water is. We're the neighbors of the refinery. Our state government really needs to start paying attention to what the public is demanding."
Many people drove the length of the state to attend the protest, leaving their San Deigo homes as early as 2 a.m. the previous night in order to arrive on time nine hours later in the Bay Area. Among the swathe of college age protesters who showed up, Miguel, a 21-year-old sociology major at UC Santa Barbara, said he drove six hours to get here.
"I'm a firm believer in the science, which is undeniable at this point. We can no longer go back to the planet we had, which is why we need the biggest mass movement and mobilization of people that history has ever seen. A conglomerate of all social movements – I think that's our only real hope."
Elayne Ryder, who works in permaculture and is a member of Transition Berkeley, said she marched because "it's about people reclaiming their own city, their own place. We need to occupy our local communities where we live, create our own energy here, our own food here. We need a positive alternative to the oil economy."
But in the end, the country's biggest march to date against fracking had its sights set squarely on the California governor – specifically, Brown's claim to be a climate leader even as he fails to address the scientific evidence linking grave human health and environmental risks to the fracking industry.
"You never know about Brown," said Carey, who drove north from Solvang in Santa Barbara County. "He's surprised us all before. I believe our water and our environment are really in great danger from fracking practices. I'm here to lend weight and convince our politicians to set rules and regulations. SB4 doesn't have enough – they're still injecting fluids, and we don't have water [to waste]."
Speaking at the conclusion of the march, Linda Capato, an organizer with 350.org, said: "Claiming that you're a climate reader while also fracking is like saying that you're trying to save money while inside a Louis Vuitton. We are here to make sure that Governor Jerry Brown understands that while we continue to frack and expand extraction for oil and gas in this state, he will no longer be known as a climate leader."