Why Black Teenage Gun Reform Activists Are Barely Recognized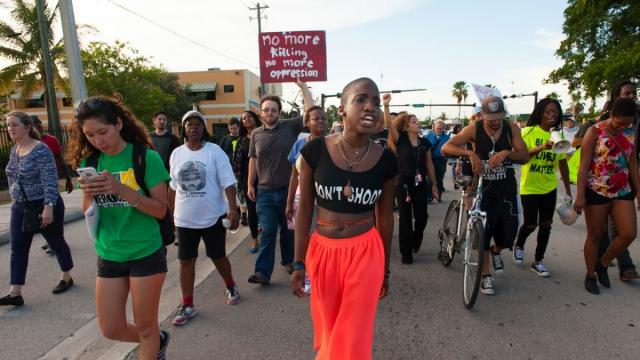 On Oct. 26, 2018, I attended a book tour for Glimmer of Hope, sponsored by the March for Our Lives movement in Chicago, at Nicholas Senn High School. The event featured a discussion between a moderator and three former and current Marjory Stoneman Douglas High School students: Jammal Levey, Delany Tarr and Sarah Chadwick. Elegantly, all three spoke about why they became activists and the challenges they've faced since launching the gun reform movement.
During the event, I noticed that while I and many in the audience recognized Tarr and Chadwick – both of whom have amassed large social media followings and received significant press coverage – this was the first time I had heard of Jammal Levey. He was a black male who had graduated from Stoneman Douglass in 2016. Before the shooting in Parkland, Fla., one year ago on Feb. 14, 2018, he was a political science major and had joined the movement because one of his friends had died in the incident.
Most of Levey's activism dealt with graphic design. But how, I still wondered, could someone who played such a significant role in the movement still remain largely invisible?
The novelty of Levey's presence is indicative of a larger, constant problem Parkland activists have dealt with since their movement began: Despite having black students present with them on tour, black gun reform activists are still largely unrecognizable. This has been evident through the disparity in Twitter followers, media appearances and press coverage.
Black students' invisibility is an issue mostly out of the control of the Parkland activists, despite their best efforts. Unrelatability and indifference from society at large is a prevailing theme. Reflecting on his tour across the country to advocate for gun reform, Parkland activist David Hogg said the biggest thing he learned was how "blatantly racist our society is, in terms of the coverage of people."
For many Americans, a lack of empathy exists for gun violence that inflicts economically disadvantaged communities of color. More troublingly, white Americans have always remained apprehensive to black-led political movements. They have often viewed them as detrimental to the well-being of the country.
Therefore, having black students at the forefront would force race into the equation. Although the Parkland activists have accomplished this, their efforts have been constantly railroaded through factors over which they have little to no control.
One area is social media. Many Parkland activists have gained huge followings on Twitter. Emma González, the most recognizable activist, has a following of nearly two million. Others are near one million or around 10,000 followers. Those number far surpass black gun reform activists.
Take, for example, Chicago-native Alex King and Milwaukee-native Bria Smith, who have around 2,000 and 6,000 followers, respectively. King appeared at the March for Our Lives rally in Washington, DC, where he and D'Angelo McDade introduced the audience to the "African clap" that his school uses to promote unity.
Bria Smith, who has spoken out about gun violence for years, joined the movement shortly after March for Our Lives demonstrations last March. She has decried the violence that has afflicted her hometown for years. Although King has stopped tweeting recently, Smith still sends out tweets regularly, but she still has a small following.
Journalists and talk show hosts have expressed admiration for the Parkland students, but black students have appeared on these shows infrequently. Smith appeared in an Access Live interview, but more popular mainstream show such as Ellen, Real Time with Bill Maher, 60 Minutes, and Jimmy Fallon, have not featured black students. Parkland activist Kia Koerber made an appearance on The Daily Show with Trevor Noah, but that is minuscule attention compared to the vast publicity the other students had received.
Press coverage of black Parkland activists and other black activists have not matched that of their white counterparts either. Hogg noted that journalists have not given black students the same amount of recognition despite blacks making up 25 percent of the student body.
The continued absence of black students is unfortunate because they have much to contribute to the discussion. Stoneman Douglass student and future Stanford University freshman Tyah-Amoy Roberts has been at the forefront of an effort to lift up black student voices. She has tried to make more black people identify with the movement by addressing gun violence and police violence in poor communities. She explained that the lack of equal attention stemmed from people's discomfort when race enters the equation.
But black students have legitimate concerns when it comes to school safety policies. Fears about racial profiling with increased police presence have gone unheard. Black students at Stoneman Douglass feel that such policies would criminalize their presence.
Interestingly, many of these issues were expressed in the immediate aftermath of the Parkland shooting and at the march on Washington, DC. They have persisted even as the movement makes progress with less media fanfare.
The reality is this: It remains a difficult task to convince the majority of Americans that gun violence in all communities matters. Racial segregation and racist presumption of black criminality makes it easy for white suburban residents to remain indifferent to inner-city gun violence. As the March for Our Lives movement enters its second year, it would benefit to have black faces at the forefront to expand the narrative around gun reform.