Why Brazil's Rational Response to Protests Is An Example To Follow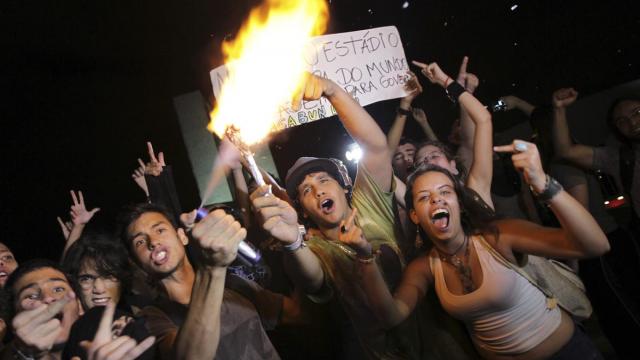 The cries and demands of millions of people across the world have fallen on deaf, impassive and unresponsive ears. Illegitimate and unrepresentative government is a common thread in the wave of opposition sweeping multiple nations on several continents. Many governments have made their stance clear regarding the opinion of people on the streets — get back to work, we're going to do what we want anyway. But after the most recent protests in Brazil, that government has chosen a more unorthodox response.
This oversimplification is not to discredit or disregard the amount of violence that emerged with the Brazil protests. Four people have died so far and many have been injured. However, President Dilma Rousseff and her Congressional counterparts have proven themselves to be more mature and rational human beings than politicians in Spain, the U.S. and, most recently, Turkey, to name a few.
In Brazil's case, the proposed transportation fare hikes were cancelled. São Paulo's state governor Geraldo Alckmin also announced that highway tolls would not be raised this year. Rouseff offered a referendum in response, to target the lack of public transportation funding.
She promised to spend approximately $22 billion on a National Public Transport Council (50 billion Brazilian Reals) for urban mobility projects. She also promised to channel approximately $6 billion in oil revenue towards education. Congress has received her suggestion and approved a bill earmarking 75 percent to education and 25 percent to health care.
Congress has also rejected PEC-37, which was the number one demand of Brazilian protestors according to one of their posters. PEC-37 would have limited the ability of federal prosecutors to investigate corruption and handed the power of investigation over to the police.
In June 2011, the policy was backed by 207 of 513 members of the federal Congress, and was later approved by the Constitution Committee. On Tuesday, however, PEC-37 was rejected with 430 votes against, nine in favor, and two abstentions.
Additionally, the Senate has approved legislation to heavily increase the fines and penalties against those found guilty of corruption. These include up to twelve years in jail, losing the right of amnesty, pardon, bail, and stiffer guidelines for parole. The bill's text has been in Congress since 2011, but was passed with impressive speed as a result of the protests.
"It was on the streets that the blindness of the politicians was lifted," said Congressman Domingos Dutra.
These reforms and suggestions are all examples of a rational response to popular, public demand. A comparatively rational response to the Occupy Wall Street movement would have been to initiate a national jobs program, to put a moratorium on home foreclosures, and to cancel student debt, among the range of core issues voiced by protestors. (It may be a long shot to ask for criminal prosecution of financial crimes.)
This is not only an example of a rational response to popular, public demands, but also an example to show that massive demonstrations and civil disobedience works.
What might be accomplished if citizens in the United States emulated their neighbors in Brazil? We might use as our starting point the rampant corporate takeover of the legislative and judicial branches of governance. From there we could move on to demand funding for vital infrastructural projects instead of wasting trillions of tax dollars on war, a massive surveillance state that conducts assaults on civil liberties, and subsidies for supranational corporations that are ruining our communities and our planet.
We must emulate Brazil and demand that our elected officials are held accountable and initiate reform – or things will only continue to get worse.