In April, Education Movements Are Gaining Full Steam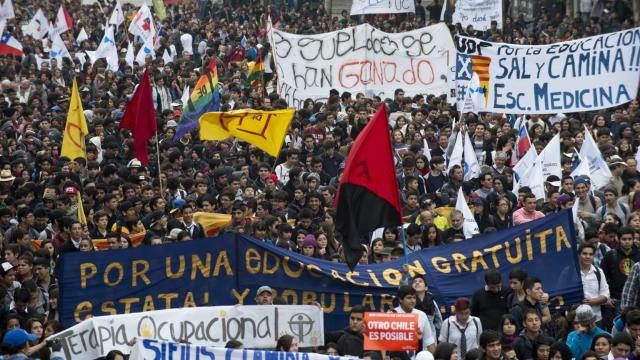 Fighting against austerity measures and racist educational policies, the political pushback led by students and teachers has reached new levels of resistance this April. Global student movements are in full bloom, from Indiana University to the streets of Santiago, Chile, where students are exerting their power against the barriers that stand between them and their future.
Thousands flood Chile for free education
As many as 100,000 protesters filled Santiago, Chile last week demanding fair and free education for all, in what was the first nationwide protest of the year. Police officers responded with water cannons and tear gas as they detained more than 100 protesters.
Under-funded schools have forced poor and working class students into shanty schools after massive privatization efforts. Students who are fortunate enough to attend private universities are fighting against tuition hikes and the poor quality of education they receive. Chile's education system is known to be one of the best in Latin America, but it is also among the most expensive, making it available to only a select percentage of students.
"Education should be equal for everyone, it should be free — we all have the same rights," said Valentina Ibañez, a first-year student at Universidad Alberto Hurtado. The two-year struggle for education reform has gained momentum in recent weeks with revitalized protests and even larger turnouts than previous years.
Indiana students and teachers go on strike
Students at Indiana University launched a university-wide strike on April 11. Their demands include eliminating fees, reducing tuition, ending privatization and prioritizing raising enrollment of black students to at least 8 percent. The collective strike began at the Board of Trustees meeting where students presented their demands. The protest has also recently extended into an energy strike as students rally against the university's dependence on natural gas and fossil fuels.
Students are currently holding weekly assemblies to gather more support and participants, as well as to create an open forum for ideas to further the student movement. Other students from Wisconsin to Michigan have hung banners in solidarity with the Indiana University strike.
Campaign to save ethnic studies takes off in Texas
A resistance movement to preserve Latino and African American studies in Texas is growing in opposition to the legislation SB1128 and twin bill 1938, proposed by State Representative Giovanni Capriglione and Senator Dan Patrick.
The bill is in response to a study on two Texas universities, Texas A&M University and University of Texas at Austin, done by the National Association of Scholars, which concluded "all too often the course readings gave strong emphasis to race, class or gender." The bill would prevent credits from ethnic studies classes from transferring to other universities and from counting toward advanced credits.
State-wide actions are already planned for the week of April 26, from El Paso, San Antonio, Austin, Houston and the Rio Grande Valley. Librotraficantes, a group of activists that emerged with the ethnic studies ban in Arizona to smuggle Latino history and literature books back into the state, has also planned to travel to Austin to protest the bill.
Mexican educators rally for free public education
Mexican teachers marched throughout Guerrero and Oaxaca on April 4 to oppose educational reforms by President Enrique Pena Nieto. Educators say the new provisions leave no guarantees for free public education and that privatization will soon threaten availability of schools in many areas.
The National Union of Education Workers in Oaxaca blocked entrances to shopping malls as tens of thousands of protesters declared that the reforms were a privatization attack on education, as control over the school system was shifted from teachers' unions to the federal government. Teachers are currently planning to occupy several public spaces and universities to continue the protest.
The movement is also in an effort to expand higher educational opportunities to students in a country where only 13 percent of students earn a degree and only 2 percent earn their Master's degree.
Chicago Teachers Union declare political fight against school closures
Chicago Teachers Union president Karen Lewis vowed to begin a "comprehensive and aggressive political action campaign" to defeat Mayor Rahm Emanuel and other city officials who are leading the way to 54 school closures.
One initiative the union will begin working on involves getting more than 100,000 new voters to the polls before the May 22 vote. Union members will go door to door in areas most affected by the school closures, in an attempt to oust officials who are supportive of the plan.
The closure initiative will shut down schools in predominantly black and Latino neighborhoods and most likely overcrowd existing schools where students will transfer. Parents and educators are also worried that if students are forced to travel longer distances to schools in unknown neighborhoods, violence and crime rates could rise.
Graciela Razo is a writer and editor for The People's Record.