In Austerity, London's Police Are Making Families Homeless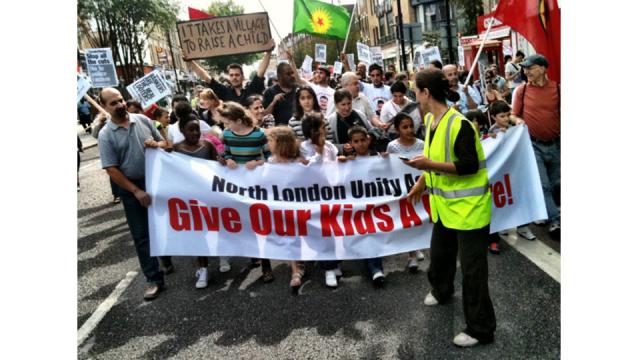 "Save our Homes: Haringey" is a fast growing campaign to resist the Metropolitan Police throwing a community of 21 families out into the street.
Within two weeks of its first public meeting, it held its first protest last weekend outside the Met Police Headquarters, New Scotland Yard, which wants to sell the land where the families live to developers. The campaign needs to move fast: the residents have been served papers and bailiffs intend to remove the first residents on March 11.
Twenty-one families currently live at Connaught Gardens, North London. Some of the residents have lived here for over 20 years. When they first moved in, they were told it would be a "home for life" by the Housing Association. Several years ago, without explanation, they were told they had to sign new tenancy deals that effectively meant the land could be given back to its original owners: the Met Police.
Recently, the locals wrote a statement before taking to the streets: "We have lived here for over 20 years," they said. "The Met Police will be ripping the heart out of this community, as the families are due to be evicted in two weeks time."
Michelle Mattocks, who lives in Connaught Gardens, commented: "I am outraged by the way we're being treated. We're North Londoners – we deserve to keep our community." Another resident, Caroline Gallagher urged, "I want to fight: it's unreasonable to be pushed out."
I asked Joan, another resident, to explain the effect of being thrown out of a house. "The whole thing is absolutely frightening – to lose your home [is] terrifying," she said. "I've just lost a loved one and now I am being kicked out. They are splitting our community apart, and for what: financial gain and playing with people's lives."
Alongside the residents, last weekend's protest garnered support from Occupy supporters, Haringey Solidarity Group and other activists, creating an opportunity to do outreach among local residents and brainstorm resistance strategies, skills and experiences.
These 21 families' plight – at the hands of the police who want to sell the land to developers – represents a microcosm of what's happening across Britain: people's rights, and lives, being trampled for corporate gain.
With austerity cuts, the Met force faces a short-fall in funding of £500 million. This is part of the nationwide cuts, austerity and privatization that the government justifies due to the country's debts. However, government seldom mentions how these debts have been caused mainly by the banker bailouts and corporate tax evasion that have cost Britain over a trillion pounds in lost revenue.
These evictions are part of a wider government-led assault on peoples' rights to housing. Conservative MP Mike Weatherley is one person leading the charge against squatters, with recent research showing he his financial backing by property tycoons.
Then there is the new bedroom tax, which is described as the Cameron government's equivalent of Thatcher's poll tax in the way that it targets low-income families. As the independent charity group Empty Homes reports, some 710,000 homes in Britain are currently sitting empty.
A new squatted community center in Elephant and Castle, called Self Organised London (SOL), is an autonomous zone dedicated to anti-gentrification, equal rights and protesting against government cuts. It has invited the residents from "Save our Homes: Haringey" to speak about their experiences.
But the pressing question now is: how long will these same residents have a roof over their heads? And, if acts of "austerity" like this are permitted to continue, whose homes will the London police be seizing - and selling - next?