Bay Area Braces for BART Strike, Again, As Workers Press For Change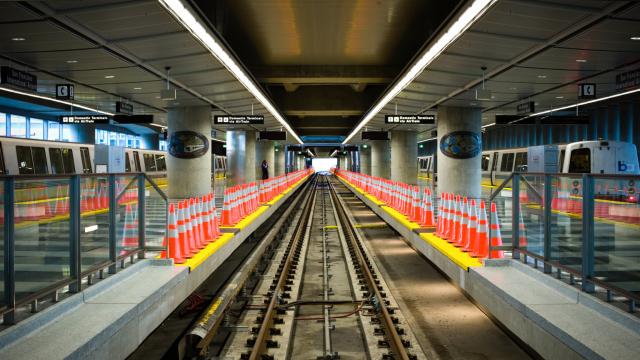 SAN FRANCISCO--The train comes to a slow halt as passengers unload and others get on board. For William, the train operator, it is a typical day. He steers the route from Millbrae/San Francisco Airport to Pittsburgh Bay Point, but for him, the future remains tenuous and worrisome. A strike is looming yet again.
"I feel trapped right now with what is going on," he said as he put the Bay Area Rapid Transit (BART) train into motion and headed toward the next stop, Embarcadero, on the edge of San Francisco's Financial District. William is right to worry. Without an agreement with BART management, workers are expected to go on strike August 4 in what could stifle transiting for hundreds of thousands of Bay Area residents.
"We understand that we, as workers, are going to face the major part of the anger because we are going to go on strike, but it would be nice to have local media talk about why we are demanding better wages and more guarantees," he said, in reference to recent coverage that focused mainly on the impact the strike could have on local businesses and commuters.
Articles in the Bay Area's two leading newspapers, the San Francisco Chronicle and the San Jose Mercury News, have published numerous stories about businesses located at BART stations, or nearby, which were affected by the work stoppagein early July because of the money it cost them.
The San Jose newspaper even published a report stating that BART workers' salaries "outpace" other workers in the region, in what workers and union leaders argue is a blatant political attack on the upcoming strike.
"BART workers easily earned the most money on average last year among the 25 largest government agencies in the Bay Area, the newspaper's review of public employee payroll data shows," wrote the newspaper. "What's more, BART employees also topped the list of the highest-paid transit operators in California."
For the workers, however, they would like to see a greater public understanding of their demands and the ways that BART management has done little to compromise.
William said he believes the unions involved -- Service Employees International Union Local 1021 and Amalgamated Transit Union Local 1555 -- have legitimate claims, and it is BART leadership's failure to negotiate that has put the situation in limbo.
"As far as we have been told, the management isn't willing to really negotiate and make this a good situation for all involved, including the commuters," he added. "The prices of tickets have gone up and the cost of living has increased, but we have not seen any boost in our wages."
At the end of July's four-and-a-half-day strike, workers returned to work hoping that they would see an increase in support from the public for better working conditions and salary gains. But in the month since the end of the stoppage, there has been little in the way of progress.
The agreement to extend the workers' present contract through August 4 served more as a Band-Aid to the crisis, not a viable long-term solution. It gave workers and BART one month to iron out some form of agreement, otherwise the Bay Area transit system could see a new round of closures.
The strike left political leaders meandering between support of residents, workers and management. In many ways, the strike has polarized the region, with residents taking a strong position either in favor of or against the workers.
One local political leader in Oakland, who asked not to be named, said the community understands the need for better workers' rights, but people are still concerned about their own economic plight.
"We have to see things from all angles, which is why a lot of us community organizers are pressing the unions and the BART leadership to come together to reach some sort of agreement before a strike happens again and affects us all," he said.
Michael Jones, a flower seller just outside the Embarcadero station stop, told Occupy.com that if a strike happens again, he might begin to look elsewhere for a temporary spot to earn a living.
"It's an expensive city to live in and if I have to close up for a number of days it really hurts my ability to pay for the mortgage and other needs my family has, so I am frustrated," Jones said. "While I understand that we all deserve a living wage in this area, I am struggling to see how a strike will make this happen."
Many Bay Area residents have said in recent weeks that a strike would hurt workers more, because public opinion would turn against them during any prolonged closure of the train system. For most locals, the priority is to maintain their daily routine and the ease of travel.
"I know they haven't received their salary increases, but do they really want to make life hard for so many people trying to get to work for their own sakes?" said one commuter, who uses BART daily to travel from Millbrae, south of San Francisco, to Oakland. "This is about more than just a few dollars. This is about people and our lives."
But for the train operators and other BART workers, the belief is that a strike may be the only way to get their voices heard -- and despite the antagonism in the media, they hope residents will understand their position and support their goals as well.
"We are ready to do this for our families," added the train operator William, as he steered toward Oakland. "This is more than just about money. It is about justice and equality. When the powers at the top get rich and don't worry about things, it is hard to sit still and just do our jobs."