Black Lives Matter: The Evolution of A Movement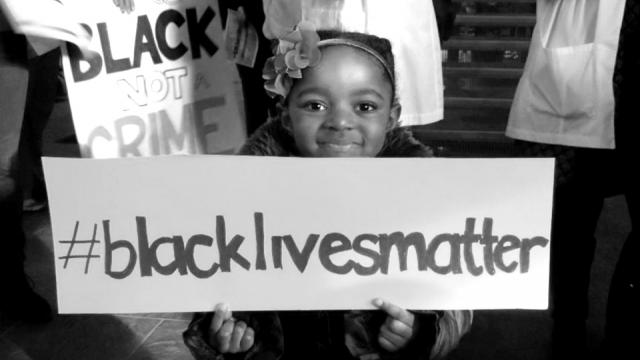 At least 778 Black Lives Matter demonstrations have been held worldwide, according to a record being kept at Elephrame.com. How did all of this start? Three names come to mind: Patrisse Cullors, Eric Garner and Michael Brown.
Cullors planted the seed from which the movement grew in July 2013, after she re-posted a friend's Facebook message about George Zimmerman's acquittal in the murder of Trayvon Martin with the hashtag "#blacklivesmatter." Garner forced Americans to confront the injustice of a police killing as they watched the video capturing Garner's final moments after being forced into a chokehold by a New York City police officer – an event that sparked no less than 62 demonstrations.
In the case of Michael Brown, at least 264 demonstrations have been held since people first followed a witness's live narration of the events preceding, during and following the teen's shooting by a police officer last summer in Ferguson, Missouri.
That is the story of how three people sparked a movement. What follows is the story of how that movement has evolved from a series of disparate protests into a united cause aimed at subverting the systemic devaluation of Black lives and normalizing the truth that all Black lives matter.
It's hard to say when the first Black Lives Matter demonstration took place, but Elephrame starts its record on July 19, 2014, two days after Eric Garner died in New York. On that day, 300 people including Garner's family marched in Staten Island, from New Brighton to St. George, in defense of Eric's life. People continued to protest the Garner killing until Aug. 9, when the focus shifted from New York to Ferguson with demonstrations erupting against the shooting death of Michael Brown.
Those protests persisted nationwide through the end of August, as bonds between the movements for Garner, Brown and other black men killed by police started to form. On Aug. 14, thousands of people in nearly 120 U.S. cities participated in a National Moment of Silence on their behalf.
The focus on Brown continued throughout September as protests for other victims of police force – including Denzel Ford in Chicago and John Crawford III in Xenia, Ohio – were also held. At this stage of the movement, the protests largely consisted of loosely connected responses to local abuses.
But by October, the disparate demonstrations had transformed into a unified movement with Ferguson October and a National Day of Action Against Police Brutality. The former, which took place from Oct. 10-13, drew thousands of people from across the country to the St. Louis area where they spent four days participating in marches, die-ins and other acts of resistance to protest Brown's death and the excessive use of police force against black individuals in general.
The latter event, which occurred on Oct. 22, united thousands more around those same issues in at least 30 cities. This progression towards unity accelerated on Nov. 24 when a St. Louis grand jury declined to indict the officer, Darren Wilson, who had killed Brown. After the St. Louis prosecutor gave an unprecedented 25-minute press conference defending the decision, Ferguson exploded. The rest of the nation followed suit as thousands of people in over 170 cities across at least 32 states revolted against the grand jury's choice.
Demonstrations centering on Ferguson persisted through the end of November, reaching as far as England. But on Dec. 3, the attention shifted back to New York when a Staten Island grand jury declined to indict the New York police officer who had forced Garner into a fatal chokehold. Protests erupted again – this time in New York, and eventually spreading to at least 25 cities nationwide as well as to Paris, London and Melbourne.
Through the month of December, the focus of the demonstrations shifted from the specific to the general as protesters united under the message that Black Lives Matter. That focus was cemented on Dec. 13 when an estimated 100,000 people participated in the Justice for All and Millions March NYC events in Washington, DC, and New York, respectively. The number of such broadly defined demonstrations grew to at least 381 – and which point it was no longer about Brown or Gardner, but about every other black life in the country.
The devaluation of black lives was no longer a New York problem or a Ferguson problem: it was a United States problem.
Prior to this shift, 12-year-old Tamir Rice was shot and killed by a police officer in Cleveland, Ohio, on Nov. 22. In one of the most puzzling aspects of the movement, comparatively few demonstrations centered on Rice's death; there were at least 14 protests in total. The lack of concentrated attention may be explained by the fact that Rice died just before the grand jury decisions were announced – and before protesters had started to unite around a single message, rather than around individual losses. It's reasonable to conclude that Rice's story was absorbed into the steadily unifying Black Lives Matter movement rather than placed at the center of a separate cause.
As protests continued into the New Year, the movement entered another stage of evolution: discussion and education. In 2015, classes, forums and similar community operations have proliferated. The movement was still taking its message to the streets, but it began to infiltrate universities, churches and other institutions as well.
In eight months, disparate protests that declared that individual black lives mattered have transformed into a united cause that continues to defend the truth that all Black Lives Matter. In that time, thousands of people across many countries participated in nearly 780 protests, rallies, marches, blockades, die-ins, teach-ins and other acts of resistance against the systemic devaluation of Black lives.
With all of this in mind, we may ask the question, "How did we get here?" It started with three words, reignited with two deaths, and grew into one movement. This is how thousands of people turned tragedy into unity. This is the story of Black Lives Matter.
Alisa Robinson is the founder of Ephrame.