Blood On Bankers' Hands As More than 10,000 Suicides Attributed to Great Recession
This article originally appeared on
Al Jazeera America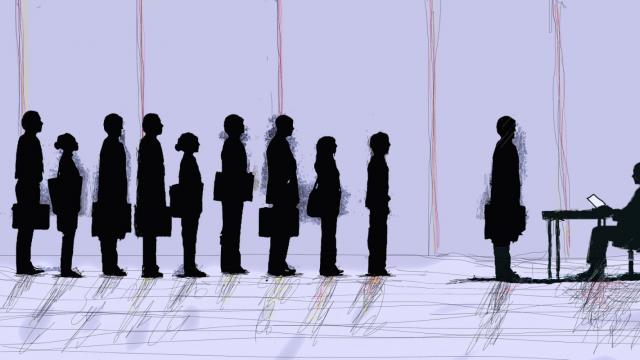 The Great Recession is a story of numbers: rising unemployment rates, the widening gap between rich and poor, contracting GDP. But a new study has added a figure that underscores the human cost of the economic downturn: 10,000 suicides.
Researchers at the University of Oxford and the London School of Hygiene & Tropical Medicine have suggested that more than 10,000 suicides in Europe and North America can be linked to the severe economic downturn brought on by the 2008 financial crisis.
The study, published in The British Journal of Psychiatry, adds to a growing body of evidence that suggests economic downturns have serious but somewhat predictable mental health consequences, and that with the right kind of intervention, the mental health impact of recession can be reduced.
"A critical question for policy and psychiatric practice is whether suicide rises are inevitable," said lead author and Oxford professor Aaron Reeves. "This study shows that rising suicides have not been observed everywhere, so while recessions will continue to hurt, they don't always cause self-harm."
The study — based on data from the World Health Organization — found that suicide rates rose sharply after 2007 in nearly every country in the E.U. as well as the U.S. and Canada. The rate of increase was four times higher among men than women.
In the U.S., the suicide rate increased by 4.8 percent between 2007 and 2010. Canada saw a similar increase. In the E.U., where the suicide rate had been steadily decreasing until the recession, it jumped from the pre-recession rate of about 10 suicides per 10,000 people by about 6.5 percent at the start of the downturn and remained at the higher rate through 2011.
Factoring population figures into the increased rates, the authors conclude that at least 10,000 additional suicides occurred in the studied countries during the years of the global economic downturn.
While most of the countries saw marked increases in suicide, the authors point out that other nations seemed to have a level number of suicides or even see slight reductions in the suicide rate during the recession. The researchers suggest one of the main reasons for variation between countries is the availability of care for the depressed, and the strength of work re-entry assistance programs.
In Sweden, Finland and Austria, for example — where government assistance for the unemployed and clinically depressed is more readily available than elsewhere — the suicide rate remained constant or saw small reductions despite the economic downturn.
"A range of interventions, from return-to-work programs ... to antidepressant prescriptions, may reduce the risk of suicide during future economic downturns," Reeves said.
The authors also suggest that governments put a special focus on helping men, who the researchers theorize have a harder time weathering unemployment because of sociological issues such as masculine identity being wrapped up in ideas of being a productive worker.
"Suicides are just the tip of the iceberg," said co-author David Stuckler. "These data reveal a looming mental health crisis in Europe and North America. In these hard economic times, this research suggests it is critical to look for ways of protecting those who are likely to be hardest hit."
Originally published by Al Jazeera America