False Bargain: Twenty Years On, Lessons from NAFTA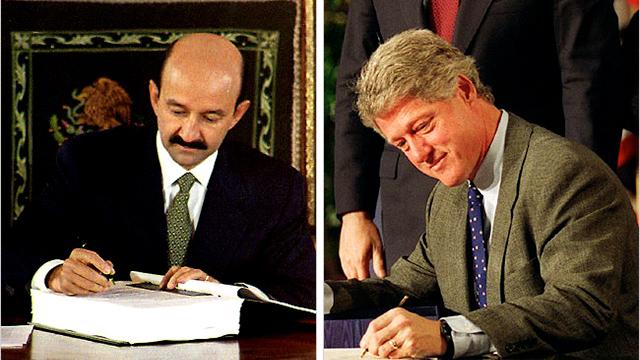 The North American Free Trade Agreement, signed into law 20 years ago last month, has become a cautionary tale for "free" trade legislation — particularly as the next round of negotiations nears, this March, for the much larger and more threatening Trans-Pacific Partnership that will further deregulate the playground for corporations, allowing them to cut corners in labor and environmental restrictions to increase profits in ten other countries.
Signed on December 17, 1992, by Mexican President Carlos Salinas, Canadian Prime Minister Brian Mulroney and U.S. President George H.W. Bush, NAFTA made moving business overseas desirable because of the different sets of labor laws, lower wages and limited union organizing. Workers' jobs went abroad and the money saved by paying menial wages went into owners' pockets, creating an abundance of wealth for those at the top while workers continued to struggle to pay for basic living necessities.
Sold to Americans as an antidote to a stagnant economy to promote trade and job growth, NAFTA became a neoliberal nightmare for workers in the U.S. and Mexico especially. Now, as the Trans-Pacific Partnership is on its way to replicating and expanding this misguided legislation to other countries around the world, it's important to take a step back and look at some of the specifics of what went wrong.
NAFTA Provisions
The "trade agreement" is an investment agreement that provides businesses a smooth transition to overseas factories, where it is legal to work employees to the bone for a few dollars a day in unsafe, shanty factories to quickly churn out cheap products. Eliminating tariffs and trade barriers, NAFTA opened the floodgates to an unrestricted movement of goods across borders.
Cultural landscapes have been jeopardized by the Americanization of Mexico with businesses like Walmart and McDonald's, two companies that have recently come under fire from striking American workers demanding fair wages and union bargaining rights. The corporate takeover of borders allows toxic, low-wage companies to pollute a country already struggling financially. Expanding these corporations to Mexico primarily benefited CEOs, such as the Walmart-owning Walton family, which has more wealth than 35 million American families combined.
NAFTA also gave companies in the U.S., Canada and Mexico the power to sue governments if environmental regulations limit profits. The cases aren't heard in standard court proceedings; to protect their "investor rights," companies take their cases to secret arbitration tribunals away from public oversight. Last year, the American company Lone Pine Resources Inc. sued the Canadian government for more than $250 million because of Quebec's moratorium on hydro-fracking, leaving Canadian citizens to pick up the bill.
In another investor rights case, the Canadian corporation Methanex once sued the U.S. for $970 million because a California executive order had phased out one of the company's gasoline additives.
Workers in Mexico, U.S. Suffer
NAFTA created bargaining opportunities to limit union demands, forcing a maze of difficulties for workers seeking higher wages and better working conditions. Employees demanding better pay are silenced by the threat of their factory reopening across the border at a fraction of the cost. Work forces lose their right to strike and to organize, thus jeopardizing their most important right to a living wage.
One of the most common misconceptions about NAFTA is that it has been a job creator in the United States and Mexico. However, according to a report by the Economic Policy Institute, NAFTA cost the American labor force about 682,900 jobs due to factories that reopened in Mexico. And as maquiladora factories sprang up in border towns to cheaply assemble export products — often using women who worked 12-hour days without health protections or labor standards, for about 70 pesos, or $7, per day — those lowered wages additionally forced Mexican workers to immigrate to the U.S., increasing the competition for work domestically.
Not only have factory workers suffered, but Mexican farmers have failed to compete with large subsidized corporations exporting cheap produce, putting an estimated 2 million farmers out of business. Farmers spread onto more marginal land, perpetuating Mexico's deforestation and exhausting many of its aquifers. Those who did compete were forced to use hybrid genetically modified seeds from biotech corporations such as Monsanto. But because GMO seeds do not reproduce, farmers developed a dependency on the very companies that were getting rich off NAFTA through annual "renewal fees." GMO seeds have now permanently endangered Mexico's 10,000 year history of small-scale corn cultivation.
Mexican workers have mobilized against NAFTA since it was first signed 20 years ago. Thousands of farm and factory workers protested the legislation and demanded that a new democratic agreement be reached. "…Unemployment, immigration, the destruction of our agricultural activities, the concentration of resources into a few hands, the deterioration of purchasing power and wages, and extreme poverty have increased in an alarming manner," read a collective statement representing various labor groups against NAFTA. The indigenous revolutionary Zapatistas of Chiapas, Mexico, have called NAFTA a "death sentence" to indigenous communities.
The TPP Will Continue Its Corporate Reign
Although President Obama said he never supported NAFTA and wouldn't support similar trade agreements, his administration has pushed to draft the Trans-Pacific Partnership, or TPP, the largest trade agreement since NAFTA, impacting many Pacific countries. NAFTA's 20-year legacy has become an advisory glimpse of what the TPP could become, but on a much larger scale. Businesses taking advantage of low-pay workforces in foreign countries will be able to further push the boundaries on labor and environmental restrictions. As past deregulated legislation has proven, the TPP will only exempt more corporations from adhering to labor protections and environmental standards in more countries.
Most troubling, the secrecy behind the TPP negotiations promises more corporate power as it threatens the sovereignty of participating nations through the use of corporate-backed tribunals. Prioritizing investor rights over worker rights, the agreement looks to give Pacific rim nations what NAFTA gave to Mexico and the U.S.: a false bargain.