Filthy Chicken Rule: Privatizing Poultry Inspection Puts the Fox In the Henhouse
This article originally appeared on
Food & Water Watch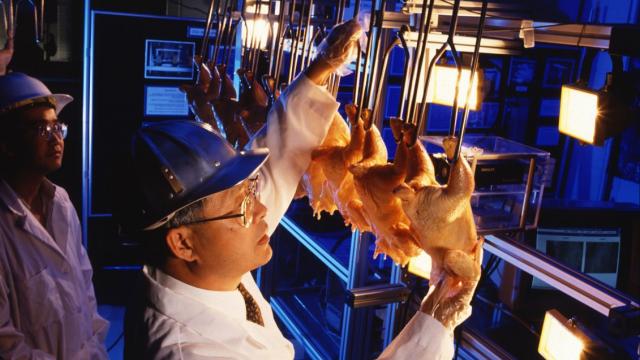 Last week, the U.S. Department of Agriculture released the final rule that will transfer most poultry inspection from government inspectors to the companies so they can police themselves.
With the poultry industry standing to gain financially due to increased production and fewer regulatory requirements, the plan is a gift from the Obama administration to the industry, one that will undermine consumer and worker safety, as well as animal welfare.
One of the changes that has been made to the original proposed rule is to cap the line speed in chicken slaughter facilities at 140 birds per minute, instead of 175 birds per minute. This is not a meaningful victory because there are not accompanying worker safety regulations to deal with the musculoskeletal disorders and other work-related injuries that both the plant workers and USDA inspectors suffer every day working in the poultry slaughter plants.
In addition, the one USDA inspector left on the slaughter line under this new rule will still have to inspect 2.33 birds every second – an impossible task that leaves consumers at risk.
The change in regulations was first proposed in January of 2012, but after strong opposition from consumer organizations, worker safety advocates and animal welfare groups, its implementation was delayed. When the comment period closed on the proposed rule, USDA had received over 175,000 public comments – most of them opposed to the proposal.
Since then, other petitions have been sent to USDA and the White House containing hundreds of thousands of signatures urging the withdrawal of the Modernization of Poultry Inspection Rule, known as the "Filthy Chicken Rule."
There have also been several congressional letters sent to USDA urging reconsideration of the rule. The non-partisan Government Accountability Office (GAO) issued a report in August of 2013 that called into question whether USDA had sufficient data to justify this radical change in poultry inspection.
The fast turnaround on this rule does a disservice to consumers and workers in poultry plants. Rather than making the contents of a revised rule public and creating a new comment period, the USDA and the White House are making a dramatic change to how poultry is inspected based on incomplete data and limited public review. Food & Water Watch is exploring if there are any further options to stop the rule.
We work to ensure the food, water and fish we consume is safe, accessible and sustainable. So we can all enjoy and trust in what we eat and drink, we help people take charge of where their food comes from, keep clean, affordable, public tap water flowing freely to our homes, protect the environmental quality of oceans, force government to do its job protecting citizens, and educate about the importance of keeping shared resources under public control.
Wenonah Hauter is the executive director of Food & Water Watch.