Greenland's Vote to Raise Corporate Taxes Deals Challenge to Global Mining Industry
Normally an election in Greenland doesn't attract much attention. But the recent vote that happened there could influence not only Greenland's future — it may also impact the profits of huge multinational companies doing business on the island, making it a more important election than anytime previously.
The constituent country of Denmark is the world's biggest island. Though it holds just 60,000 inhabitants, its vast reserves of natural resources, both below and above ground, have drawn the interests of the global mining industry in recent years. Greenland, with its remote location and lack of infrastructure, is in a particular economic malaise these days due to its dwindling fishing industry.
And while it wants independence from Denmark, Greenland still depends on the annual $700 million check from the Danish government. From Greenlanders' perspective, any tax revenue and jobs that come from mining projects are welcome — provided the mines produce a sufficient amount of both.
Greenland's former government, led by the Inuit Ataqatigiit party, or IA, was eager to attract the mining companies and offered much in the way of access with little demanded in return. One of those companies was London Mining, a corporation funded by the Chinese, that planned to invest heavily in an iron mine north of the capital Nuuk.
Many criticized IA for being too generous with state resources while not guaranteeing benefits for Greenland's people. Half of what the government gave to London Mining for the purpose of exploitation was exempt from paying royalties. Normally, in Greenland as elsewhere, mining companies pay a percentage of the value of the minerals they extract, since that wealth is considered the property of the citizens and future generations. Royalties are also often the only compensation a country like Greenland receives for allowing in mining interests, since many companies get what they need without paying any income tax.
In particular, IA offered London Mining a sweetheart deal called the Big-Scale law, which allowed London Mining to import 3,000 Chinese workers to Greenland. That law would allow London Mining to ignore Greenland's labor laws and build the mine under notoriously substandard Chinese labor regulations and salaries.
By contrast, Greenlandic workers are unionized, and have labor laws that guarantee workers a living wage and adequate benefits. Under IA's proposal, the international mining industry would get to have their cake and eat it too. But before the government and the mining industry could strike a deal, it was time for an election.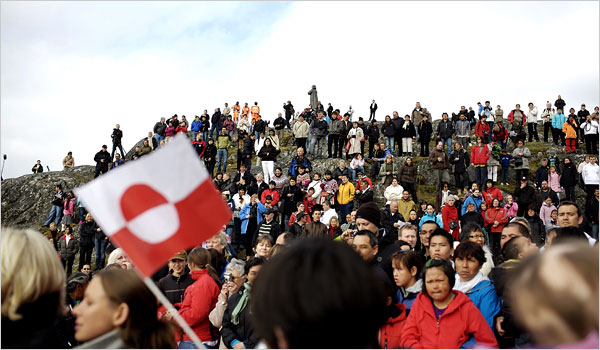 How the Tables Got Turned
During the election, the most central issue was IA's proposals to disregard Greenland's royalty laws and labor standards. Jens Erik Kirkegaard, Greenland's current minister of business and natural resources, is a leading figure in the country's progressive party. He's also one of the people who turned taxing the value of the minerals into a popular political cause.
"We would give away the resources for free if there were only income tax, as the income tax potentially will have long prospects," Kirkegaard said, in reference to investment schemes that allow companies to pay zero income tax for many years after the construction of the mine.
"I will demand that when a company takes valuable resources out of Greenland, it pays a percentage of its marked value," he said.
Kirkegaard believes that even if a company doesn´t report any official income due to its investment scheme, it should still compensate Greenland for any minerals it extracts. He also want to re-write the Big-Scale law to mandate that Chinese workers enjoy better labor conditions if they come to Greenland.
IA, on the other hand, only wanted to tax the companies based on their income, even if it takes years before they officially post any profits under lenient tax laws. "The natural resources have no value if they are not extracted," Kuupik Kleist, who was the head of Greenland's government while IA was still in power, said during the election. "Therefore we have to invite companies which have an interest in extracting the resources. It is very expensive to run a mine in Greenland compared to other countries.
Kleist argued that companies wouldn't invest in Greenland if they were forced to pay royalties. However, he made no mention of the several international companies that were lining up to throw billions into mining investments, hungry for the riches buried in the Greenlandic mountains.
One can only speculate on the effect of lobbyist influence on IA's decision-making. But one fact recently brought to light was that several prominent members of the former government and the opposition have or have had personal interests in the mining industry.
Kleist himself, for example, is a co-founder of the mining company GreenGems. When he was first elected, he and the former minister of natural resources left their positions on the GreenGems board of directors to their wives. Despite GreenGems being granted lucrative extraction licenses in the area around the capitol during their time in office, both were cleared of nepotism charges. After two years in office, Kleist's former mining minister sold a company after critics said he was likely to profit from another large-scale mining operation in the area of the capital.
Several other Greenlandic politicians and officials have close ties to the mining industry, including with London Mining. Greenland has a revolving door culture where politicians and private mining company executives move from position to position, often leaving their former posts to their wives or family members. And the recurring appearance of corruption has caused worries among Greenland's people.
Minik Rosing, a geology professor at Copenhagen University who has extensive knowledge of Greenlandic geopolitical affairs, heads an expert group that is looking into Greenland's potential mining operations of the future.
"Greenland must secure itself internally, so no one is cheating," said Rosing. "It is important to [safeguard against] the dishonesty — not just from the companies, but also the government itself."
Rosing said he believes Chinese investments could benefit Greenland economically, if handled correctly. But that means that "a good deal would be one where Greenland is in control, and where the minerals are keeping the business going while benefiting Greenland."
"It is important to use experience from countries with a high level of regulation, like Norway and Canada. In Canada, the government made deals with the Chinese, which now are benefiting the country. We must do the same," he said.
While Greenland may not consider itself facing the same level of corruption as African and other developing countries, IA's proposal was evocative of similar deals carried out in Zambia, one of the worlds biggest copper exporters. The only direct income Zambia gets from most of its mines is the 0.8 percent royalty it receives from the companies operating there. This paltry amount is one of the main generators of tax revenue for one of the world's poorest nations. Yet most companies doing business in Zambia's copper mines pay zero income tax under carefully-devised transfer pricing schemes that allow them to sell the minerals to their subsidiaries at manipulated prices, then shift the income to overseas tax havens.
Such transfer pricing is also about to take place in Greenland. According to the Danish newspaper Politiken, two London Mining subsidiaries tasked with ownership of Greenlandic operations have already been established in Jersey, a known tax haven in the English channel. If they succeed in avoiding paying income tax, Greenland will only profit from the royalties and the income tax paid by miners, assuming the miners were from Greenland in the first place.
Eventually, the voters of Greenland decided against companies extracting their resources for free. Voters also opposed importing thousands of Chinese workers, which would have created a vast community of underpaid Chinese workers equivalent to 5 percent of the Greenlandic population.
IA's deal excluding Greenlanders from jobs in the mine, and potentially undermining local salaries and labor deals, cost them in the election. After the opposition's big win at the polls, it aims to renegotiate the Big-Scale law, modifying worker conditions and demanding royalties from all future mining companies operating in Greenland. London Mining is expected to get permission to extract in the near future under the new conditions amended to benefit Greenland. Democracy has spoken.