May Day at LAX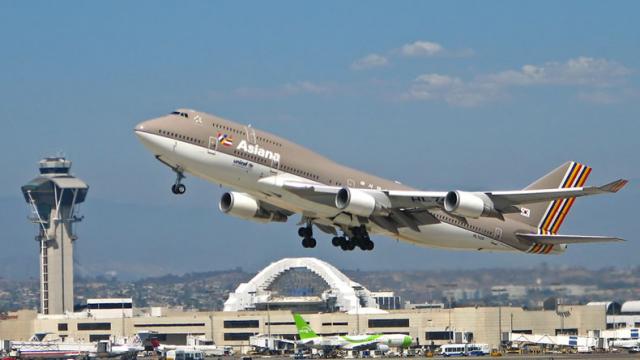 Gathering workers onto buses in the pre-dawn hours, a coalition of unions from across Los Angeles made for L.A. International Airport Tuesday to engage in a nationwide general strike, calling for greater organizing rights and safer working conditions for the airport's 4,000 non-unionized employees. About 1,200 members of United Service Workers West are expected to participate in today's demonstration and march, starting at noon at the Tom Bradley International Terminal.
"People see the conditions in the terminal but not what goes on below the terminal—the issues of health and safety, where people have serious accidents on a regular basis, cargo accidents, their hands get crushed…[and] it's not unusual that someone comes away with an accident that is terminal damage," said David Huerta, vice president of United Service Workers West, the coalition of unions numbering some 40,000 workers in Los Angeles, which is leading the strike at LAX.
Huerta said that in the run-up to May Day, cargo companies tried to intimidate workers by threatening them with discharge if they engaged in activities around the strike. "There's a lot of pressure on these workers to stand down," he said. "they've been told that if they walk out they could lose their jobs."
And he said it was the union coalition's responsibility to stand by the workers in the event of mass firings. "If anybody is treated unjustly by LAX then we're going to be prepared to respond immediately. We're going to do what we have to do so that workers are given the right to engage. They should be considered heroes for speaking up.
"That's what's wrong in this country," he said. "People should have a right to take part in these types of activities—to stand and be counted—without losing their livelihoods."
Many workers at LAX fail to receive health insurance though they're sub-contracted by some of the biggest and most profitable airlines and cargo movers in the country. The average wage for a cargo worker at LAX is just over $11 an hour, and many of the uninsured have their health care costs imposed on top of those wages.
Additionally, workers at LAX have been denied the right to union representation—a point Huerta hopes to expose in Tuesday's strike.
"We've been at it several months, bringing this to the attention of the city, the airlines, the airport commissioner of L.A. The workers have made it very clear what their goals are: they need protections in the workplace, both keeping safe and also in context of employers. They seek representation to give themselves a voice in the workplace," he said
The airport workers are targeting several sub-contractors that service the airlines, including Aviation Safeguards, Menzies Aviation and Swissport International. In case of Aviation Safeguards, the company ended collective bargaining and is now trying to unilaterally cancel its contract with workers. "The workers have said over and over and been very clear that they have not elected to remove the union and have asked to continue to be represented by SEIU," said Huerta, who added that he spent much of the last day driving around with colleagues visiting workers at their houses, encouraging them to come out on May Day.
Janitors, security officers and public events employees also contributed to the USWW coalition leading the strike.
"The economic condition is such that workers are barely making the living wage they should be receiving," Huerta said. "You put those two combinations together—an expendable workforce whose economic conditions are so low, and the health and safety conditions where workers are going in there and putting themselves at great risk—and it represents the true conditions that people have been left with in the workplace: the lack of a voice, the lack of representation, the lack of ability to be able to improve their lives.
"This strike is very significant," he added. "These workers are in the midst of trying to put themselves in the middle of the labor struggle: to organize, to get workers to join unions, to be a solid voice like they were 30, 40, 60 years ago. And we're committed to moving this forward as far as possible. The 99% versus the 1% is the classic story of David vs. Goliath. Occupy, along with community and coalition groups, can make a change in the lives of everyday people. It's invaluable for labor, for its community partners, for Occupy, for all of us to work collectively to create that change."
Elsewhere in L.A., rallies started early as well, with "Four Winds" marches heading in different directions toward distinct parts of the city, including car and bicycle caravans that converged in high density areas the downtown financial district.