Neoliberalism Almost Killed Baltimore. These Candidates Want to Rebuild Their City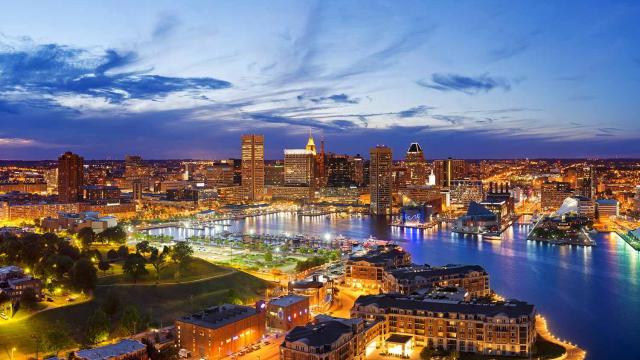 "From the Ground Up" is an ongoing series of articles co-conceived by Occupy.com and Commonomics USA. We explore people and organizations dedicated to direct action and grassroots projects for economic justice.
This November, far below the tragicomic rhetoric of third parties and presidential elections, neighborhoods in Baltimore will decide whether to again entrust their future to big business-oriented Democrats, or take a chance on radical economic democracy.
Vapid national debates about whether voting Green helps the GOP are of no use in Baltimore; the Greens have a chance there, almost no Republicans have a chance there, and even if there were legitimate GOP contenders, it's not always clear the Democrats are the lesser evil. Most of the city's Democratic leadership subscribes to a neoliberal and corporatist economic agenda and accepts that privatization and public-private "partnerships" govern Baltimore's financial, industrial and service economies.
Rejecting those assumptions, Green city council candidates are campaigning aggressively across Baltimore, vying for the positions of mayor, council president and five additional council seats. Two of those candidates, Amanda Maminski, of the 10th district, and Ian Schlakman, of the 12th district, are workers in Baltimore's technology industry. They're walking neighborhoods, listening to voters and staying optimistic even in the face of their institutional disadvantages.
"It's an uphill battle, and I have several big obstacles in the way – our current City Council rep is Democrat, has been in office for the last 20 or so years, and has much, much deeper pockets to campaign from," says Maminski. But she believes she has reached more people personally than those who currently know her incumbent opponent, Edward Reisinger, who she says has won the past three elections with roughly 1,700 votes in a district with 10,000 registered voters.
"The majority of people in South Baltimore don't know his name or who he is – and I can't help but think that, for someone who has been our elected representative for the last 20 years, it's a terrible statement about how connected he really is to the community. So I'm actually quite hopeful about my chances: more people in the community recognize me than recognize him."
Schlakman expresses similar optimism. "I feel excellent about our campaign, and I say our campaign because we are really focusing on working for and with the community on crafting municipal policy, and also because we are out in the community almost every day, knocking doors to find out the concerns of residents," says Schlakman, who hopes for "a tremendous victory in November for our communities."
Effects of Neoliberalism
With Baltimore in mind, David Andrews of the University of Maryland describes neoliberalism as a restructuring of city economies into sites for mass consumerism and little human agency. In place of citizens and civic leaders, neoliberalism gives us consumers and businesses. Management becomes entrepreneurship, but not by local businesses.
Instead, because neoliberalism views public services as consumption spaces and opportunities for shareholder profit, the commercial interests that control the public space do so from faraway places, geographically, economically and spiritually. This model has devastated Baltimore, a city at the epicenter of corporate welfare as it deals with deindustrialization and neighborhood decay, big banks plundering and redlining, further impoverishing all groups but especially African-Americans, and creating few opportunities while continuously demanding that residents be well-behaved consumers.
"Communities cannot be empowered when outside corporate giants are putting downward pressure on working class wages," says the 12th district candidate, Schlakman. "Our city officials have not yet worked to transition from that corporate system, a system which is clearly on the decline in the United States, and which will be detrimental for Baltimore."
Schlakman unapologetically calls himself a socialist. That means something different in neighborhoods and communities than it does in academic debates or on conservative talk radio, and in Baltimore it includes working class people running their own businesses, from small family and sole proprietor efforts to worker-owned enterprises. Schlakman says the push for neoliberal urban planning in the 1980s and 90s "shut down" neighborhood main streets and corner stores in favor of big capital.
"When the only office space or retail space in your town are large and expensive then you're going to see nothing but high capital chain stores moving in," he says. "To democratize our economy we need to make small low-rent spaces available for those of us who want a business and want to get out of 'renting' their labor to a boss who's extracting all the wealth from them."
Creating cooperative businesses is even better because it changes the way decision-making occurs in larger enterprises. Worker-owned enterprises "aren't under pressure from stockholders and boards of directors... to turn socially irresponsible profits every quarter," says Schlakman, who advocates that the city "institute tax cuts for worker-owned cooperatives, and it would be useful to start an office which can pool applicants for worker-owned cooperatives, and recommend them for certain cooperatives." He also suggests using money and tax credits currently committed to the massive, gentrifying Port Covington project to finance worker-owned cooperatives throughout the city.
"I know critics will laugh at the idea of socialism being the future," Schlakman adds, "but I work in tech and many tech leaders are saying this." He's right: voices from the technology industry are calling for both universal basic income and worker-owned enterprises.
Meanwhile, 10th district candidate Amanda Maminski has lived in South Baltimore for 13 years. She feels the working class history of Curtis Bay, whose community members had to stage protests in order to get water and sewer services from the city in the 1970s, and whose residents were uprooted by the building of a toxic pesticide factory in the 1980s. More recently, a company called Energy Answers tried to build an incinerator on the Fairfield Peninsula; after years of protests and company delays, Maryland regulators recently shut the project down.
The incinerator fight was what politicized Maminski.
"With all of the pollution that is present in our neighborhood, how anyone could think that more pollution was a good thing – even if it brought jobs with it – was beyond me," she said. Her work in the renewable energy field led her to design a solar farm that would provide power and jobs to the area. But District 10 council member Ed Reisinger wasn't interested.
"We couldn't get him to listen objectively to what we were saying and what we wanted, [we] couldn't get him to represent our concerns," Maminski says. "I started looking deeper into the politics that had gotten us into that situation, [then] declared my candidacy for District 10 City Council."
Citizen participation drives Maminski's campaign and is a promising complement to the Baltimore Greens' economic proposals. She would reinstate the city's Tax Budget Expenditure Report, listing how much money is spent on projects and salaries across the city, and facilitate meetings between citizens and council members to redirect city funds according to neighborhood needs.
Maminski says she would also have Citizen Advisory Committees "formed in each district, and have City Council reps be required to meet with the CAC in their district to discuss revenue changes. It would be a valuable tool in giving citizens back control of the government and over city finances; it would be a tool and an avenue whereby we could hold our city government accountable for fraud and wastage, and make sure a much greater percentage of public money goes to public services instead of being used to support businesses and developers."
After listening to city council candidates describe what needs to be done in their districts, the national conversation about stopping Donald Trump seems incomplete. Trumpism – an ugly, thug-capitalist outgrowth of neoliberalism – can be stopped only by encouraging cooperation and empowering people at every level of economic interaction and policymaking, beginning in working-class neighborhoods.
Baltimore's current layer of leadership is incapable of doing this. They've sold the city to banks and big corporations a thousand times, always with the same immiserating results. Nationally, people may be flocking to vote Democrat to stop incipient fascism in the short-term. But locally, groups like the Baltimore Greens hope to rebuild communities and stop corporate totalitarianism in the long run.
Matt Stannard is policy director at Commonomics USA and a member of the Public Banking Institute's board of directors.