Ohio Signs Nation's First Anti-Renewable Energy Bill Into Law
This article originally appeared on
Salon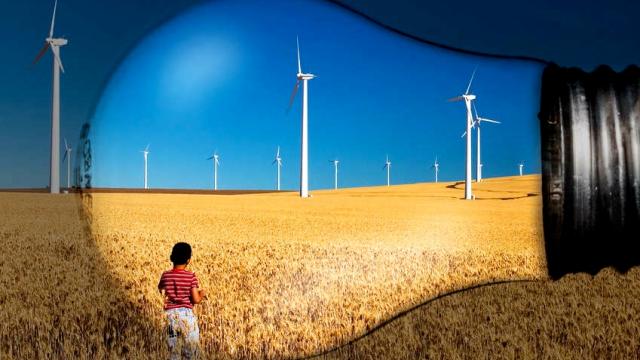 Gov. John Kasich just signed into a law a bill that freezes Ohio's renewable energy mandate for the next two years, making Ohio the first state to make negative progress on its green energy goals. Good job, Ohio.
As Salon reported last month when the state House of Representatives first approved the bill, SB 310 removes the requirement, first set in 2008, for utilities to add renewables to their energy mix. It sounded like a good idea then — it passed almost unanimously — and has done pretty well for Ohio since: clean energy's brought 25,000 jobs and at least $1 billion in private sector investment, and cut electricity rates by 1.4 percent, resulting in over $230 million in cumulative savings.
Unfortunately for jobs, savings and the environment, conservative, libertarian and Koch-affiliated groups like the Heartland Institute, Americans for Prosperity and the American Legislative Exchange Council have made renewables a political target.
"These green energy mandates are bad policy," Christine Harbin Hanson, a spokeswoman for Americans for Prosperity, told the L.A. Times back in April, referring to similar legislation in Kansas. "State governments are starting to wake up."
Gabe Elsner, executive director of the pro-renewables Energy and Policy Institute, sees it a bit differently. "The fossil fuel and utility industry has been caught off guard by the rise of cheap, clean energy, and over the past 18 months they've responded in a really big way across the country," he told the New York Times. "We're seeing the results of that campaign now in Ohio."
Meanwhile, Katie Valentine reported for ThinkProgress:
Gov. Kasich signed Senate Bill 310 after months of heated debate over the bill, which was backed by some of Ohio's manufacturers but opposed by others, including Honda and Whirlpool. The measure will freeze the state's renewable energy standard and energy efficiency program at 2014 levels for two years, during which time a committee will study how the standard impacts the state and whether or not further changes should be made. Currently, Ohio's RES stipulates that the state's utilities must get 12.5 percent of their energy from renewable sources by 2025.
Former Ohio Governor Ted Strickland, now President of the Center for American Progress Action Fund, signed Ohio's RES into law after itpassed the House and Senate almost unanimously in 2008. He told ThinkProgress in May that he doesn't agree with the push to freeze the RES.
"Let me be clear, this vote does not represent a compromise, it represents a giveaway to utility companies and the end of Ohio's leadership in the renewable energy industries," Strickland said.
"When I signed SB 221 into law it put consumers on a level playing field with the utility companies. It was legislation developed over months of bipartisan discussions about how to create jobs in an emerging industry and position Ohio as a national leader in the production of renewable energy. It has been working — jobs are being created, investments are being made, and rate-payers are saving money."
Ohio groups rallied against S.B. 310 in the months leading up to its signature. In May, Ohio faith leaders called on the governor to veto the bill, citing their concern that a weakened RES could harm God's creation. Ohio residents also supported the state's standards: A poll released last month by the Ohio Advanced Energy Economy found 72 percent of respondents were in favor of the renewable energy standards.
According to a report by the Ohio Advanced Energy Economy, the standards also led to significant savings for Ohioans. From 2009 to 2013, the RES saved Ohio residents $1.03 billion and cost $456 million, according to the report. The group also noted that many Ohio utilities praised the standards for their savings and job-creating potential.
American Electric Power Ohio, for instance, said energy efficiency programs have been "an important resource for the state of Ohio, AEP Ohio, and its customers, continuing to be important as future fuel and commodity prices remain volatile and environmental regulations become more stringent."