Organizers Tackle Walmart Workers Rights, Florida's Voter Future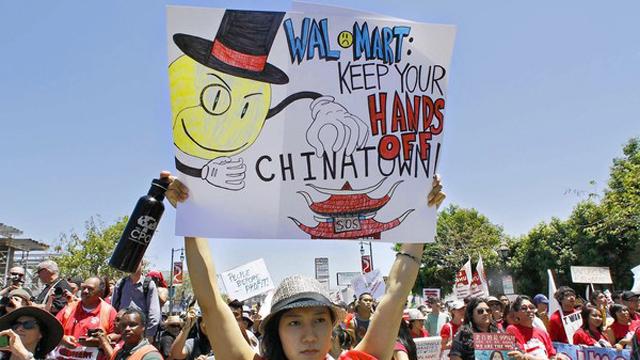 Going up against the behemoth that is Walmart is no easy job. Walmart is the second largest U.S. employer after the U.S. government, employing more than 1.4 million Americans in over 4,200 stores — 1% of the U.S. working population. The average Walmart worker earns $8.81 an hour, substantially less than the $11.75 hourly average that Walmart claims. This means that even those who are lucky enough to be given full-time hours (many workers are denied full-time work) have an annual salary that is far below the poverty line.
In recent years many workers have had their hours cut and benefits reduced as Walmart seeks to maximize its profits. Several unions have attempted to unionize individual Walmart stores with little success. Walmart isn't shy about using heavy-handed tactics. When union membership numbers began to climb in a store, Walmart would simply shut the store down.
United Food and Commercial Workers (UFCW) have been taking a new approach to worker organizing with an innovative model designed by an incredible team including Dan Schladelman, who built a successful organizing effort by training members to be leaders in Houston in the Justice for Janitors fight. Rather than organizing Walmart stores a handful at a time, the strategy is to support Walmart workers to become leaders and to have those leaders build a broad membership network across the U.S. The key idea behind the Organization United for Respect at Walmart has been to combine deep field organizing in a number of areas with an online network of volunteers who can build in areas where field organizing can't reach.
Dawn Littman and Venanzi Luna represent two distinct arms of the successful OURWalmart network. Dawn is petite, with a contagious laugh, someone who will spend hours on the phone with you, listening and empathizing. Venanci Luna's passion is fierce, her knowledge and demands clear. "We will get respect. We will," she often tears up as she says it. She and other leaders are pushing to get a store majority and after listening to Venanci's compelling stories about the cuts in hours and the lack of pay and benefits, you find yourself thinking "tell me where to sign up."
Dawn and Venanzi are both strong leaders. Dawn is clearly a network builder and she is well suited to her position on the frontline of online engagement. People often make contact with OURWalmart during a time of crisis at work and Dawn and her team are there to offer them the help and support they need. For many workers, contacting OURWalmart is a big risk which could cost them their job. If you ask many of the online organizers: "Who is responsible for you taking the risk to be here?" they will answer: "Dawn."
Venanci is on the frontlines of getting a store majority. The larger the network, the stronger OURWalmart becomes. The stronger the network grows, the more power they wield.
Together, Venanzi and Dawn are part of a national leadership team building deep hubs in the field and broadening their membership engagement online. Some of their best practices include:
Build a community of shared values: Walmart workers share a common bond and experience as Walmart employees that helps them connect with one another. OURWalmart organizers build on this and deepen member connections and ties through in-person leadership meetings. Share power: The ownership of decisions occurs at as many levels as possible, led by core leaders. The national leadership team combines online and offline leaders. To go big, go small: Although the network is scaling, it still has strong local and online hubs. In the field team, this occurs at the store level. In the online team, private facebook groups and national text message and email coordination keep the network in touch with each other in between frequent trainings and joint actions.
Swing state work has traditionally been transactional. Large amounts of money flow into a state and build lists. Teams of people gather for the push to see if the state can swing red or blue. The Florida New Majority started in 2009 is birthing a movement building alliance this election to transform Florida for the long-haul. The alliance of organizations, including faith, labor, and grassroots networks have already been working together and have engaged more than 600,000 people.
Anchored in part by a pair of strong organizers and friends, Gihan Perera, known for leading the Miami Workers Center and Monica Russo, a visionary SEIU leader with deep ties to the faith community, FNM is a c4. It has spent the last two years building a strong alliance of different groups from communities of color and preparing for a 10-year shift. They are very serious about their alliance building. Most of the organization heads are in a year long training together with Nge'the Maina, a top movement builder from Social Justice Leadership. The Florida effort is modeled on a similar New York program that trains across organizations in four key areas:
1.Grassroots issue-based organizing 2.Non-partisan electoral organizing to scale 3.Values and vision 4.Transformation of Self
Bringing together the understanding that what breaks down networks can be the individuals in it, the focus on shared values and self transformation is groundbreaking. Florida New Majority has several best practices:
Transformational Organizing: It sees the organizing as a transformational practice and does training to ensure leadership and organizations have the skills to build something together. This isn't seen as secondary or insignificant — FNM has fully staffed and resourced a team to carry out this vision
"Both and" Thinking: FNM could have said, "we don't do electoral, we do long-term work." Often groups are separated into two distinct categories. Instead, FNM found new ways to build electoral teams, and has a post election pivot plan. It dared to go bigger than the traditional silo of electoral or long-term grassroots organizing.
Internal and External plans: The alliance has strong grassroots organizing training and teaches personal transformational practice at the same time.
OURWalmart and FNM are both exciting models of new innovative organizing. They are part of the push away from shallow, transactional membership relationships towards a new form of network organizing. These new models are defined by broad networks of deeply engaged members, consisting of smaller hubs which offer people the depth of personal connection, trust and support they need to reach their full potential. These efforts invest deeply in connecting with their members and supporting and nurturing their engagement as an essential foundation for long-term movement building.