Pipeline Protest Leaders in British Columbia Vow to Maintain Right-Of-Way Blockade
This article originally appeared on
The Globe and Mail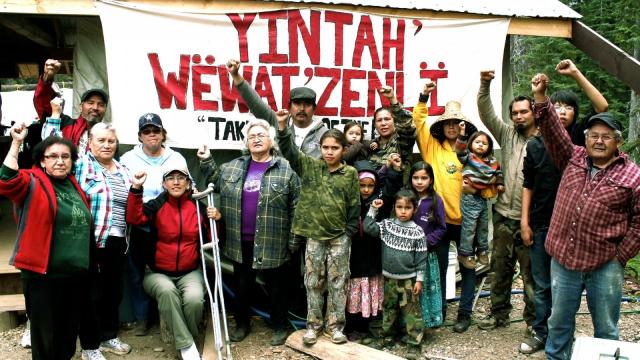 Leaders of a small native camp in central B.C. that is blocking the right-of-way of a proposed gas pipeline say they won't be moving any time soon, even if a court orders them to.
Freda Huson and her husband, Dini Ze Toghestiy, who are both Wet'suwet'en members, said they have been dug in so long on the Pacific Trail Pipeline Project route that they consider the camp their home now.
In Vancouver over the weekend to attend "training workshops" for anti-pipeline protesters, Ms. Huson said she suspects an injunction may soon be brought against the camp, which is located about 60 kilometers south of Houston.
"We don't give a care about their injunction … the blockade is already in place … nobody has a right to remove me," said Ms. Huson, who belongs to the Unis'tot'en clan of the Wet'suwet'en.
"We actually live there … so basically they are trying to put an injunction on our home," she said.
"One of the big messages we're trying to get out … we're not criminals, we're not looking for violence. We're out there to try to protect the water and our land and our food so future generations can enjoy it," said Mr. Toghestiy, a hereditary chief.
The Unis'tot'en Action Camp was first put up in 2010 after industry proposed a $1.5-billion, 470-kilometer gas pipeline between Summit Lake and a new liquefied natural gas plant to be built in Kitimat.
Since the protest camp was established, it has grown from a few tents, to include a cabin and a traditional pit house. A bunk house and more pit houses are planned.
Zoe Blunt, a spokesperson for Forest Action Network, an environmental group that supports the protest camp, said the number of people there varies throughout the year from a handful to 200.
Ms. Blunt's group organized a caravan of supporters to go to the camp last summer and is currently raising funds in case money is needed to defend anyone arrested there.
The Pacific Trail Pipeline is the most advanced of several LNG projects proposed in B.C. Environmental approvals are in place and the right-of-way is surveyed, but Chevron Canada Ltd. and project partners Apache Canada Ltd. have yet to make a final decision on proceeding with the project.
The proponents claim to have widespread native support for the project.
"Fifteen of the 16 First Nations along the proposed PTP route are partners in the pipeline," said Gillian Robinson-Riddell a spokesperson for Chevron Canada Ltd.
She said bands supporting the project have signed on as partners in the First Nations (PTP) Group Ltd., an aboriginal company that is doing a variety of contract work related to both the pipeline and LNG plant proposals.
"We're working toward a final investment decision but there are a few factors [that have to be confirmed] yet," said Ms. Robinson-Ridell on Monday. "Of course, we're looking for further certainty around cost and design of the project … and we are looking for further First Nation support."
She said her company is aware of the Unis'tot'en Action Camp, but denied the company is seeking an injunction against them.
"We have not filed anything," she said.
Ms. Robinson-Riddell said although major construction work has not started on the project, 75 per cent of all pipeline contracts awarded so far have gone to First Nations businesses.
Karen Ogen, chief of the Wet'suwet'en First Nation, one of the bands that makes up the larger tribal group, said most native communities support the proposed pipeline. However, she accepted that supporters of the Unis'tot'en Action Camp don't feel that way.
"Everybody has a right to their own opinion," she said.
*
In other news, Popular Resistance reported over the weekend that urgent help is needed in South Dakota to sustain the battle against another pipeline struggle – the Keystone XL:
The heart of the battle to stop the Keystone XL Pipeline from carrying excavated tar sands from Canada through the US on its way to export lies in a small community in South Dakota. Recently members of the Lower Brule Sioux Tribe learned that their Tribal Council was working on a deal to build the power station on their tribal land that will provide electricity to the pipeline. The electricity is necessary to heat the pipeline in order to keep the thick bitumen and chemical additives flowing. In exchange, the community is to receive wind turbines and free electricity.
This power station is the heart of the pipeline that will keep the fluids flowing. Without it, the pipeline will not function. That is why members of the Lower Brule community view their struggle to stop the power station as essential. But they are facing opposition not only from TransCanada but also from their own Tribal Council.
Those who are organizing to stop the power station are doing what they can to educate and mobilize members of their community. They are asking for your help. They need funds to assist with outreach materials and banners. If you can make a donation or provide assistance, please contact:
Standing Soldier PO Box 212 Lower Brule, SD 57548 (605) 730-1433
They are mobilizing to have a presence at the next meeting which is an informational meeting organized by the power company on April 24. They are concerned that now that members of the community are aware of the deal being proposed, the power company will push for a swift agreement.
There is so much at stake if the pipeline is built and carries tar sand bitumen. The tar sands excavation is already poisoning the land, water and air in Alberta, Canada and causing significant health problems for the wildlife and communities there. If the tar sands travels through the US, it will poison the air, land and water here as well when it spills. And there is no question that there will be spills, only when and where they will occur. And finally, the tar sands is a climate bomb that contains so much carbon that it will hasten climate chaos.
Fortunately, communities are joining together to stop the pipeline. Below is a video that describes the Rosebud Sioux Prayer Camp and the Cowboy Indian Alliance that is coming to Washington, DC in the end of April. Please support this struggle in any way that you can. This fight affects all of us.
Originally published by The Globe and Mail