Protesters Stampede to Flee Crackdown in Turkey
This article originally appeared on
USA Today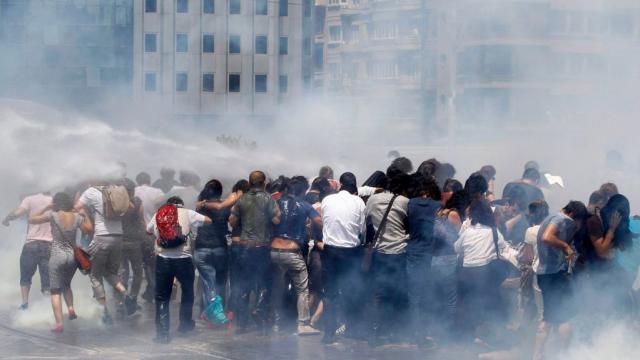 ISTANBUL — Riot police stormed Istanbul's Taksim Square on Tuesday, using tear gas and water cannon to scatter protesters demonstrating against plans to redevelop a nearby park.
"Now that the theater is over, I don't know what will happen now but we are waiting and we are trying to save the park still," said Nuri Kayserilioglu, 24, an economics student sitting at the edge of the square, who says the show of force was a play for the camera but he and his friends intended to occupy Gezi Park until forcefully removed.
Television cameras captured images of molotov-cocktail-throwing demonstrators who confronted armored police vehicles. By mid-afternoon, demonstrators inside Gezi Park tried to distance themselves from the violence, accusing police of using provocateurs to make sensational images of violence.
Tuesday evening, police suddenly moved in on protestors in Taksim square, the heart of the protests, spraying tear gas and causing a stampede as people tried to flee. Clouds of tear gas wafted through the air and demonstrators buckled in pain, some falling in the surging crowd.
Things calmed later but several fires burned in the square late into the evening. Protesters exploded fireworks, threw stones and waved banners as helmeted officers in gas masks yanked down signs. Istanbul's governor tweeted that police were only there to remove banners hanging on adjoining buildings and had no intention to clear the park, where thousands of people remained.
Several people were being placed into ambulances during the clashes, which have become a test of Prime Minister Recep Tayyip Erdogan's rule. His Islamist government has been assailed by many Turks as too heavy-handed against those who disagree with his policies.
Erdogan sent in riot police late last month to clear a park of peaceful sit-in protesters who wanted to save trees slated for destruction in one of Istanbul's only remaining garden parks. The move sparked nationwide unrest leaving at least three dead — including a policeman — and nearly 5,000 injured.
Erdogan said Tuesday that the occupation of the park would soon end.
"I am sorry but Gezi Park is for taking promenades, not for occupation," he said.
Erdogan also accused the park of harboring violent extremists and has accused foreign nationals of stoking the unrest. Erdogan offered no hard evidence of a foreign plot, though the movement has garnered international sympathy from foreign nationals living in Turkey.
Activists have said they are reacting against Erdogan's heavy-handed authoritarianism and not only increased restrictions on alcohol or plans to raze a park.