Purchasing the Presidency: How Citizens United Has Overwhelmed 2012 Spending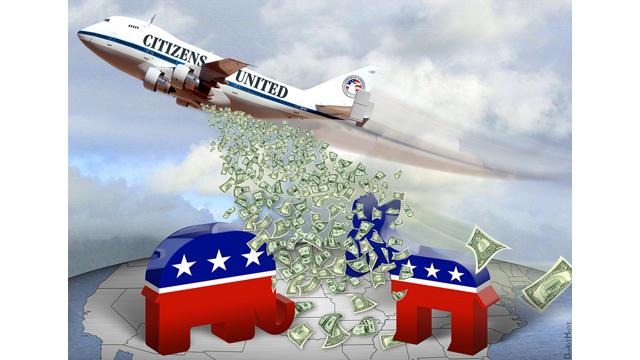 Almost $465 million of outside money has been spent on the U.S. presidential election campaign so far, including $365 million that can be attributed to the Supreme Court's landmark Citizens United ruling, according to a report released on Monday.
Super Pacs, which came into effect following the 2010 Citizens United verdict, accounted for $272 million of the expenditure in the study, conducted by the Sunlight Foundation, a non-profit organization devoted to increasing transparency in government.
A further $93 million has been spent by corporations, trade associations and non-profits which, according to the Supreme Court's decision, are able to spend unlimited amounts on political campaigning without disclosing the source of their funds.
"This cycle's outside spending mostly comes in the form of 'independent expenditures' supporting or opposing political candidates by unions, corporations, trade associations, non-profit groups and Super Pacs," wrote Kathy Kiely, managing editor of the Sunlight Foundation.
"This money enabled outside groups to run shadow campaigns for or against candidates of their choice."
Kiely said around 78% of outside spending in 2012 – $365 million of the total $465 million – could be attributed to the "Citizens United effect". The 2010 ruling by the supreme court in the case of Citizens United vs. Federal Election Commission allowed corporations and unions to spend unlimited money on campaigning, enabling Super Pacs to spend unlimited amounts as long as they had no coordination with the candidates they support.
In reality, those running Super PACs have often have close ties to political parties. Former George W. Bush advisor Karl Rove runs the conservative American Crossroads Super Pac, while Restore Our Future, a pro-Mitt Romney Super Pac, was founded by former Romney aides.
The money spent by Super Pacs, unions, corporations and non-profit groups is more than double what those groups spent in 2010, the first campaign in which the supreme court judgment had taken effect. Although Super Pacs are usually thought of being aligned with presidential candidates, the Sunlight Foundation found that much of these groups' recent spending has been focussed on more localised electoral battles.
"A deeper dive into the data shows that the latest uptick in outside spending is focused on congressional races: even in presidential battleground states, almost all the spending by outside groups is focused on House and Senate candidates," Kiely wrote.
Recent expenditure includes Crossroads GPS spending $400,000 in Nevada against Democratic Senate candidate Shelley Berkley; Workers Voice, an AFL-CIO Super Pac, logged hundreds of expenditures in the $25 to $60 range in Florida, indicating a get-out-the-vote effort for senator Bill Nelson, according to the Sunlight Foundation.
Of $465 million of outside money spent so far in 2012, $460.8 million comes from Super Pacs, corporations and other groups which do not have to register as political groups. An additional $4.1 million comes from "electioneering communications": advertisements or political activities that focus on issues and policies – the oil industry, for example – and encourage voters to support a candidate without mentioning any politicians by name.
The Sunlight Foundation's data shows a heavy skew towards negative campaigning, with $99.2 million so far spent supporting a candidate and $360.7 million opposing a candidate. Some $131.1 million has been spent on communications opposing President Obama, with a relatively small $50.7 million spent opposing Mitt Romney.
The figures also show that $21.3 million has been spent opposing Rick Santorum – a nod to his surprising endurance during the Republican primaries – and $18.8 million has been spent on opposing Newt Gingrich, who won the South Carolina and Georgia primaries before fading from the race for the Republican presidential nomination.
Looking at the money spent supporting rather than opposing candidates, Romney comes out on top, with $15.7 million spent in his favor. Gingrich comes second, having had $13.5 million invested in his bid for the presidency. Just $6.4 million of outside money has been spent in support of Obama.