Quebec's Students Win Battle for Universal Education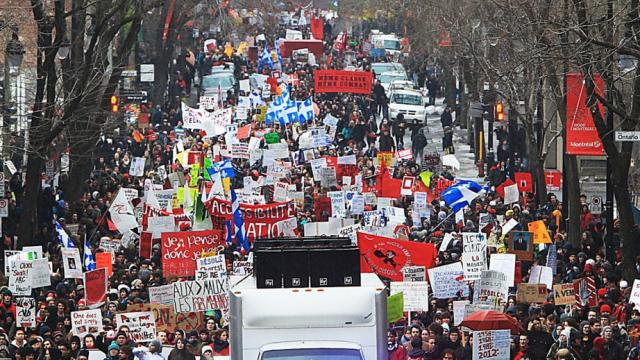 "Forward, forward, we are moving, Our heads like a delta. Good-bye, farewell. On our return, we will have the past on our back. And after all this time throwing our hate at all forms of peonage We will have become terrible beasts of hope."
– Gaston Miron
Right now, 193,000 students are on strike in Quebec. In the true spirit of a strike, students have blockaded their schools, preventing others from entering the buildings. For more than 70 days and counting, classes have been cancelled.
Students are standing against the government's refusal to negotiate reasonably about tuition rates. More broadly, Quebec's young are striking out of a deep commitment to a society where higher education is accessible to all. If implemented, the tuition hikes would prevent many students from attending school. According to the strikers, even one would be too many.
Unlike the United States, Canada has adopted the International Covenant on Economic, Social and Cultural Rights, which states, "Higher education shall be made equally and accessible to all, on the basis of capacity, by every appropriate means, and in particular by the progressive introduction of free education." In Quebec, students pay what their families can afford; there is a limit placed on the amount of loans a student can borrow, after which all tuition and basic living expenses get automatically covered by government grants.
As evidenced by the students' strike, Canada's signature on the International Covenant means more than lip service. The people of Quebec treasure the democratizing power of universal access to education. As Gabriel Nadeau-Dubois, a leader in the student movement, put it, 250,000 people don't take to the streets just to avoid paying an extra $1,625.
Indeed, the students' outrage is moral outrage. Their fight is broader than a struggle against tuition hikes. "The fight is against a world that tries to cut off our wings, that wants to discipline us through debt and work," Nadeau-Dubois said. "This is [a fight against] an elite who see nothing in education but a human capital investment, who see nothing in a tree but a sheet of paper, and who see nothing in a child but a future employee. These people have convergent interests, and a converging political projects. It is against them that we fight."
Last November, the Quebec provincial government, led by Liberal Prime Minister Jean Charest, announced that the government would be raising college tuition fees by 75% over the next 5 years without adjusting loan amounts or indexing them to inflation. Charest has since amended that proposal to 7 years, a paltry move that misses the mark of much deeper grievances.
(On Saturday, a tentative deal was reached between striking students and the Quebec government, calling for a $1,780 increase in university fees over seven years, or about $254 a year, that would eventually bring the total to $4,000 a year.)
One wealthy student, upset with the current strike, sued, claiming that his right to attend school was being breached. He won. Following the court's orders and protests in the streets, police attacked University of Montreal students—pepper spraying them and beating them in an attempt to end the blockade. Their aggression failed. Within four hours, Quebec's popular websites were covered with pictures of bloodied students and, shortly after, university administrators begged the police to back off.
Police repression continued throughout the province where judges issued injunctions against students. The strike, which earlier had only just over half of the student-body's approval, swelled to nearly three-quarters support from students.
Note the difference in the positions between the students that sued and the students on strike. Strikers, the majority of whom are currently paying tuition, are fighting to ensure that the poorest amongst them may stay in school, now and in the future, when the costs will be drawn from their paychecks. In court they were opposed by a rich family that would have no problem adjusting to tuition hikes, that showed no concern for the consequences of its position against the strike. It was a classic case of those with privilege being blinded to the struggle of others.
Yet the students in Quebec have a lesson for all of us. In the words of Nadeau-Dubois, "Our strike, it is not merely the matter of a generation. It is the matter of a people, it is the matter of this world. Our strike is not an isolated event. Our strike is just a step. It is just a moment along a much longer route. Our strike is already victorious. It is already victorious because it made it possible to see this road, that of resistance. This is the true meaning of our strike."