Rightwing Truckers to Clog D.C. Freeways to Protest "Unconstitutional" Congress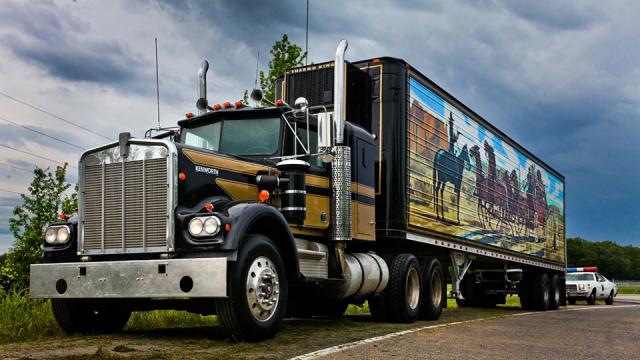 A group of tractor-trailer drivers and truckers have decided to clog the inner loop of the Washington D.C. beltway in response to our leader's unconstitutional behavior and the continuing government shut down. Beginning the morning of October 11 in a coordinated effort to call attention to numerous citizen's frustration with "business as un-usual" in Washington, drivers will circle "three lanes deep" with other participants to help make a very big point.
In a recent press release a spokesperson for the truckers said: "Let's show these bastards who runs this place — they will NEVER be able to control a nationwide protest. We are demanding that Congress follow the US Constitution immediately; comply with our lawful demands, or their refusal will cause a shutdown."
Earl Conlon, a trucker from Georgia, is helping plan for this unusual protest. He and other truckers are seeking the arrest of congressmen for allegedly ignoring constitutional laws. Only the left lane of Interstate 495 will be kept open for emergency vehicles, otherwise, if there is no support sticker on a car or other vehicle which states, "T2SDA" -- an acronym which stands for the original "Truckers to Shut Down America" -- they won't have a way to get through. The trucks plan on driving at 55 mph (the legal speed limit) so that local law enforcement cannot interfere.
Fox News has called this a "bizarre" protest against things that are destroying America; however, it is no less bizarre than Congressmen and women who have decided to take an extended vacation, with pay, while important government programs are at a standstill. Causing traffic to do the same seems an apropos way of communicating many people's frustration with the way our government is handling its job.
The truckers are finding support in the community as well. Zeeda Andrews, a former country music singer is helping to promote the protest.
While the members of the protest are not asking for Obama's impeachment, they are seeking the arrest of "everyone in government who has violated their oath to office." Conlon cites the idea of a citizens' arrest, as the method for indicting members in office. They are seeking the cooperation of law enforcement who are also under oath to uphold the Constitution to make the arrests. Conlon remarks:
"If they refuse to do it, by the power of the people of the United States and the people's grand jury, they don't want to do it, we will. We the people will find a way."
As the spokesperson for this group of irate truckers, Conlon says that Obama committed treason by allegedly supplying weapons to Al-Qaida-linked rebels in Syria. Conlon also says there are numerous accessories to this crime. He identifies Nancy Pelosi, the House Minority Leader, and Senator Dianne Feinstein, a Democrat from California, as additional parties who should be arrested.
In a recent retraction from his original premise, Conlon also said "that truckers won't intentionally shut down traffic this weekend, though some may travel along the inner loop of the Beltway and honk their horns. Conlon said it "wouldn't be fair" to the people of D.C. "to lock down the city by the belt loop," but their press release also said, "I would LOVE to see the DHS sort out who in the big traffic jams across America is a protestor or simply stuck in traffic."
Originally published by Nation of Change