Snowden, Assange and Greenwald live streaming at SXSW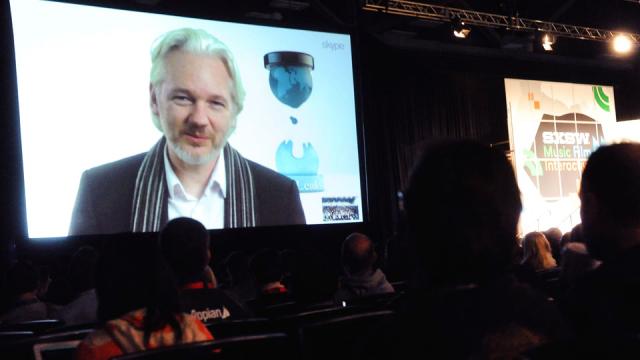 "Tin foil as reality," a phrase hacktivist lawyer Jay Leiderman whipped out during a panel for "The Hacker Wars," permeated this year's South By Southwest Interactive Festival in Austin, Tex. This new reality, brought on in large part through the revelations of National Security Agency whistleblower Edward Snowden, created a situation where Snowden and two other major speakers - Wikileaks's Julian Assange and journalist Glenn Greenwald - were physically unable to attend and instead used webcams to appear.
Projected on two 30-foot screens and overflowing into another large auditorium, Snowden spoke to the SXSW audience from Russia while using seven proxy servers, bouncing the video signal around the Internet in order to disguise his location. The arrangement created choppy video and poor, echoey audio quality. Still, he was able to maintain a clear enough signal to hold an hourlong conversation with the American Civil Liberties Union's principal technologist Christopher Soghoian, answer a few questions from Twitter and provide the attendees with plenty to consider.
With a copy of the United States Constitution as a backdrop, Snowden began by encouraging the tech-savvy crowd to do what they could as technical experts, such as using and developing encryption methods, rather than wait on lawmakers to enact reform. Describing the NSA as "setting fire to the future of the Internet," he told the audience, "You guys are all the firefighters."
Snowden encouraged the group to develop encryption methods simple enough for the average Internet user. He emphasized the need for such encryption "to pass the Glenn Greenwald test," referring to his first experiences contacting Greenwald, who did not have the capability and initially did not understand the need for encryption.
For his part, Soghoian emphasized a similar point, suggesting that the next Facebook, Twitter or Google needs to use "end-to-end encryption" for Internet users who resist using encryption.
Snowden reminded the crowd that encryption does work to avoid mass surveillance, although he warned that it is not effective against targeted surveillance. He described two basic forms of encryption: The first involves the encryption of a computer's hard drive. He acknowledged that the technology as it now exists makes this process difficult for all but the most advanced users.
The second form of encryption involves encryption of networks. Snowden suggested that there are plug-ins for some Internet browsers that provide a degree of protection; something that an average Internet user could handle. But after he mentioned using the Tor network, Soghoian asserted that Tor was a great example of the failure of user-friendly encryption due to its complexity. One thing they did agree on is that encryption needs to be made easier and more accessible.
When asked about what he thought of National Security Director Keith Alexander's testimony during a Congressional hearing last year, Snowden elaborated that "they [Alexander and previous director Michael Hayden] elevated offensive operations - that is, attacks - over defense of our communications." This fundamental shift has weakened United States's communications and has actually made them more vulnerable to attacks, Snowden claimed.
Soghoian reminded the crowd that tech companies that offer free Internet services, such as Google's Gmail, are advertising companies first and foremost. The data they collect is used for targeted advertising. "If you want something secure, you're going to have to pay for it," he said.
Shifting to how to change the current surveillance environment, Snowden again emphasized that individuals need to do whatever they can instead of relying on the possibility of government reforms. He suggested that more use of encryption by the general populace would likely surpass whatever reforms the government could enact. "We need public advocates," said Snowden.
Reminding the crowd of Snowden's role in that effort and drawing an applause, Soghoian said, "Without Ed's disclosures, many tech companies would not have improved their security either at all or at the rate that they did . . . his disclosures have improved internet security."
When asked about what his goals were by releasing the documents, Snowden explained that he did not want to influence government policy by himself, but wanted to provide the transparency needed to allow Americans to come to their own conclusions about what amount of surveillance is appropriate and constitutional.
Drawing possibly the loudest applause was Snowden's statement, "I took an oath to uphold the Constitution and I saw the constitution was violated on a massive scale."
Holed up inside the Ecudoran embassy, Julian Assange was another speaker unable to attend. His talk was punctuated with some of the same technological problems and a one point he quipped that the quality of Internet access in and around the embassy was not the best.
He spoke largely in general terms, answering questions ranging from his perspectives on journalism to the current situation in Ukraine. At one point he announced that there is another document dumping coming soon from Wikileaks, but provided no details.
When asked to speculate about eBay founder and billionaire Pierre Omidyar's new media outlet, First Look, Assange said he believed that even with Omidyar's vast wealth and connections, he could not escape being surveilled and thus felt compelled to do what he could. Assange elaborated, "Omidyar has genuinely seen that there is not even liberty for people who have eight billion dollars anymore." But Assange was quick to point out that we don't see the chairman of the boards of major intelligence contracting firms starting such a venture "because they are able to work inside the system."
Greenwald was the final speaker abroad, beaming in from Brazil. Answering questions from Twitter, he clarified that he has read all the documents Snowden provided him and roughly half have been reported on, but "many of the most shocking and significant stories are still coming." Near the end of his talk, Greenwald was asked about his recent suggestions that he might return to the United States at some point. Although he said no decision has been made, he suggested the George Polk Award ceremony, where he will be among other honorees, might be a fine time and place to re-enter his country. The ceremony is set to take place in New York City on April 11. If Greenwald were to appear in person, it might provide at least one opportunity to bend this "tin foil as reality" back into a more human one.