Sustainable Food Systems: How Locavores Are Leading the Way in Athens, Ohio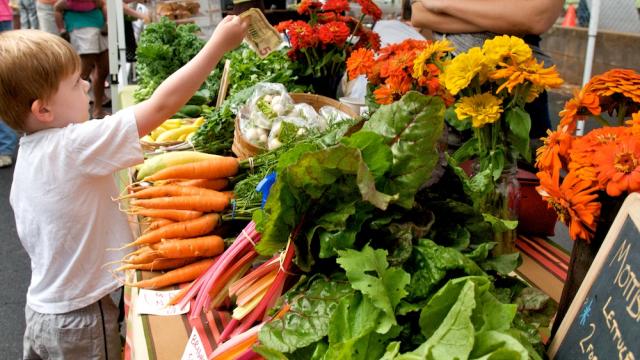 Twice weekly, the farmers market nestled in rural Athens, Ohio, bursts to life. Farmers bring baskets brimming with produce as a crowd of coffee drinkers wait patiently for their morning cup of locally brewed caffeine. Fresh cinnamon rolls, a dollar each, neighbor pizzas the size of one's torso, and fruits and vegetables plucked that week ornament the myriad market stands where farmers exchange the news with familiar faces.
The market, which happens Wednesdays and Saturdays, is a meeting place for both locals and newcomers to Athens County, an area of some 64,000 residents (nearly a third of whom are students at Ohio University) seated in the Appalachian foothills of Southeast Ohio. It is also, at four decades of age, an early and long-running example of locavorism — emphasizing local production and consumption to mitigate food miles — a trend that's increasingly catching on across the country.
Many who purchase the local produce and socialize with Athens farmers began doing so before the term "locavore" became mainstream jargon. Patrons of the market have long flocked here to snag pints of Casa Nueva and Cantina's salsa, for example, which is made entirely with ingredients grown locally. The Mexican-inspired restaurant began incorporating local ingredients after local farmers loaned the restaurant money in exchange for its promise to cook using only local produce. Now, Casa Nueva buys goods from more than 30 different Athens vendors each week. J.B. King, owner of King Family Farms in New Albany, provides 300 to 400 pounds of meat weekly to the restaurant, said Tom Hirb, who is a worker/owner at Casa Nueva along with his wife Alicia Cordell.
Many other restaurants in Athens, including Fluff Bakery and Catering, and Jackie O's Pub & Brewery — which has its own plot of farmland — feed the market that keeps Athens' local food economy ticking.
Matt Starline, owner of the certified organic farm Starline Organics, said his produce gets sold no more than 20 miles from where it is harvested. Three quarters of his total harvest is sold at the farmers market, directly to consumers, while the remaining produce gets delivered to various restaurants in town.
"We want to keep everything local," he said. "Our grains and vegetables are grown here, so we need to stay. We want to keep it here, keep it coming back in. It's a revolving door."
Starline believes locally grown food isn't just a great selling point for consumers in Athens — but for people nationwide who are growing more and more concerned about the content and the safety of what they're eating.
"People like to know the story behind their food," he said. "If you went to any of the major grocery stores and saw what was there and saw how the meat was raised, or the vegetables, it's not very appealing to want to buy it."
But the rising popularity of people wanting to buy local isn't exactly new, he added.
"It's a trend that goes way back [to] people raising their own food. We've been so disconnected on where our food comes from that we need to go back to our roots to see what it is."
Julie Shaffer, who founded Slow Food Atlanta in 2000, likens this resurgence to a paradigm shift, returning us to a more primitive lifestyle. The trend in recent decades to consume fast food and pre-prepared meals has had myriad adverse health effects that in turn prompted people to question their eating habits, she said.
"When the food system became large and industrialized, we made some big mistakes, and we're now learning from those mistakes," said Shaffer. "And I expect that in five years we will be back to the more localized food system."
Local food, which is often pricier than commercial food because it is grown on a smaller scale, is now in some cases thriving in the face of convenience food because more consumers want to know where and who their food is coming from.
"Part of the reason for the renaissance of the farmers market is the yearning for that personal connection," Shaffer said. "I bet the people you buy from know you by name, know what you want. There's something soul-satisfying about the humanness."
The microwavable meals trend, she said, began during her mother's generation in the midst of the depression. "I remember my first TV dinner, the very first frozen prepared meal," she recalled. "It was even kind of healthy in the very beginning, but it's devolved into something very unhealthy for us."
In the interim, she added, "small family farmers have really struggled to stay afloat. I know when I was a kid growing up, everyone knew a farmer. It used to be that 40-something percent of our population [was] farmers, and now it's three percent."
According to a report published by the U.S. Department of Agriculture, the number of farmers markets in America nearly doubled, seeing a 92 percent increase to 5,274 markets, from 1998 to 2009. The study noted factors that affect whether a person is willing to purchase local goods, including product perishability, base price and regional differences in attitudes toward food.
Julia Paxton, an economics professor at Ohio University with a doctorate in agricultural economics from Ohio State University, said attitude as well as education affects people's purchasing habits in terms of whether they buy local.
"What I see is there is this group of people who are college-educated oftentimes, and idealistic, and they want to be responsible and they want to purchase things that demonstrate their values and their morals," Paxton said. "So it goes beyond just what you eat."
Location also impacts whether locavore culture is able to thrive and compete against large-scale food retailers in certain areas. Shaffer, of Slow Food Atlanta, said that dry areas with less fertile land tend to have a harder time establishing frequent farmers markets with plentiful produce. Athens, Ohio, like Atlanta, Georgia, where Shaffer resides, have access to fertile land that works in the favor of farmers.
However, Athens is also one of the poorest counties in Ohio with 31.5 percent of its people living below the poverty level. The median income here was $33,546 in 2011, according to the U.S. Census Bureau. Despite this, the farmers market has been deemed "one of the nation's best markets" by Audubon Magazine, as it continues to thrive with produce and loyal patrons. Athens also heads a unique locavore initiative called the 30 Mile Meal, which further works to connect residents to the local food scene.
Shaffer said she has seen "incredible momentum" in the local foods movement and expects locavore habits to become even more popular. "I think it's a big social paradigm shift, and it's not exactly mainstream yet," Shaffer said.
But, "the fact that Wal-Mart is selling organic speaks volumes about what America is wanting."