Under the Pavement Is Oil, And Above Ground Brews Resistance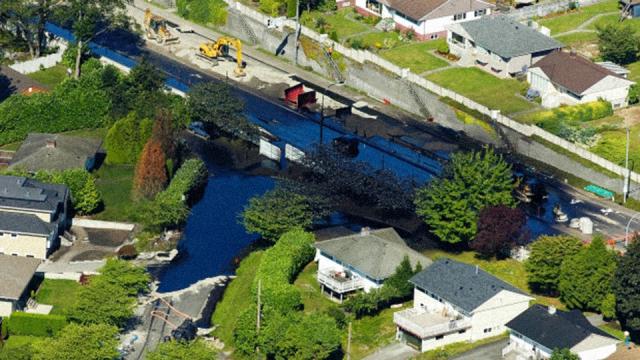 In 2007, a construction crew hired by the city of Burnaby, British Columbia, broke through a half-century-old pipe carrying petroleum products from Edmonton to the Burrard Inlet. It sent a black geyser into the air that spilled 250,000 liters of oil, covered homes and vehicles, and caused the evacuation of over 250 residents.
The neighborhood of Westridge, home to some of the most expensive real estate in the city, instantly became a toxic waste site. Remarkably, few of the residents in the area knew that the ruptured pipeline had been there since 1953, or that it was an essential part of a larger network of energy and resource extraction connecting Burnaby to the Athabasca Tar Sands.
Originally set in the ground by the Trans Mountain Oil Pipeline Co., a division of Bechtel Corporation, the 700-mile-long Trans Mountain Pipeline joins other pipelines that converge like a web underneath the city. Many of them reach their terminus at a series of refineries, tank farms and terminals from which jet fuel, natural gas, crude oil and diluted bitumen are distributed elsewhere – most of it placed on to tankers to be taken to the U.S. and overseas. On the western coast, Burnaby marks the end of the line before the Tar Sands leaves Canada.
History of a Resistance
A large suburb in the lower mainland of British Columbia, Burnaby developed over the last century as economic power shifted from the port at New Westminster to Vancouver, the terminal city for the Canadian Pacific Railroad. Settled by British colonialists, Burnaby has become a magnet for various waves of immigration – from a broad assortment of European diaspora to an expanding community of South and East Asian settlers. The traditional territory of the Coast Salish people, specifically the Tsleil-Waututh, Skwxwú7mesh (Squamish), andxʷməθkʷəy̓əm (Musqueam) peoples, the land has never been ceded and is illegally occupied by the Canadian government.
Very little of the city today reflects the traditional ways of life that had been practiced here for millennia up until settlement began 150 years ago. Most of the local First Nations are centralized on small reserves along the shore of the Burrard Inlet to the north and the banks of the Fraser River to the south.
As in other parts of Canada, leadership in opposing the expansion of resource extraction and transport has emerged from First Nations, who have forged new alliances with environmentalists, social justice activists, on occasion local governments, and most significantly the rural and urban settler communities who are beginning to recognize the crucial intersection of native self-determination and their own political and personal concerns.
Last decade, the proposed expansion of the Trans Mountain Pipeline was announced by its new owner, KinderMorgan – an accident prone, Texas-based energy corporation created by Richard Kinder and Bill Morgan, two Enron executives who had abandoned ship moments before their former company began its spectacular sinking.
KinderMorgan proposed a so-called "twining" of the existing pipeline that would triple the volume of oil shipped and stored by building a massive new pipeline alongside the existing one, along with multiple new storage tanks and major site expansions like the Westridge Terminal in Burnaby – allowing for up to three Afromax super tankers to dock at any given time.
The path of the pipeline through Burnaby would be diverted onto completely new routes in an attempt to avoid the spectacle of massive road closures, property expropriation and major urban protests against the project. In the 60 years since the original pipeline was laid, whole communities have developed on top of, beneath and alongside the aging petroleum infrastructure.
Today, the existence of this infrastructure is in many ways hidden in plain sight, marked (if at all) by small posts warning people to "call before you dig", or naturalized by the green spaces whose contours are defined by the pipeline's 18-meter right of way. A shocking proportion of the city's geography – from parks and urban trails to the location of major roads and the delimitation of property lines – is determined by the need for access to pipelines running underground.
Stopping the Flows
As Canada's federal and provincial governments – acting seemingly at the behest of a cartel of energy companies – escalate the scale and number of projects designed to extract short-term political and financial gain from liquified natural gas and Tar Sands, it has fallen on smaller and often remote communities to lead the fight against these projects and the catastrophic climate changes that would ensue.
While 81% of the Canadian population resides in the major cities lining the southern edge of the country, the majority of these fossil fuel projects most directly affect smaller towns and communities, with some notable exceptions. Many of these towns have seen industries like timber and fishing grind to a halt as depletion and over-extraction of living resources has led to massive unemployment, poverty and population loss. As a result, the promise of billion-dollar projects and revenue shares has created deep divides in communities along the path of the proposed pipelines.
This is particularly true for First Nations who have complicated and contentious governing structures that at times are deeply at odds with the desires of some "grassroots" members. The Wet'suwet'en present a telling example: while the local governmental representation has signed off on various proposals, many of the clans are in deep disagreement, and a blockade erected by the Unist'ot'en Clan has been built directly in the path of the approved Pacific Trail Pipeline, which is seen as a prelude to the much more controversial and unpopular Enbridge-owned Northern Gateway Pipeline.
This camp, established in 2011, has become a flashpoint for the anti-pipeline movement, drawing activists from elsewhere to its annual action camps and expanding the kind of confrontational, direct action that has been a common feature of indigenous resistance to colonial appropriations of traditional lands.
The Unist'ot'en Clan has recently received an injunction which goes into effect on June 15, and many are waiting to see whether Canada's government repeats its disastrous handling of similar confrontations, including the Gufstafsen Lake Standoff, Kanasetake (the Oka Crisis), and more recently the Mi'kmaq blockade in Nova Scotia.
The Unistoten Camp's blockade highlights one of the weaknesses of the petroleum and natural gas infrastructure: its vulnerability to "sabotage," the intentional disruption of its flow networks. One likely reason for the rapid increase of pipeline projects is to build a delivery system for extracted resources that is agile enough to reroute shipments, avoiding any form of sabotage – whether in the form of political or legal intervention at a local level, or direct disruption of infrastructure at any stage.
The remoteness of these projects makes them vulnerable in some respects, but it also protects them from popular awareness and opposition. Even when thousands of people protest a pipeline in an urban center, the real test of political wills is in the isolated towns that serve as way-stations and transfer points – places such as Kitimat, which recently held a plebiscite that resulted in a non-binding vote to reject the pipeline, in spite of Kinder Morgan having spent $10,000 and sent teams out campaigning door to door to win approval.
Towns such as Kitimat and Squamish in B.C., St. Johns in New Brunswick, and American ports that are part of the same networks, such as Anacortes, Wash., and South Portland, Maine, are what Timothy Mitchell calls "narrow conduits." In his book Carbon Democracy: Political Power in the Age of Oil, Mitchell describes the political struggles in port regions, saying "these conduits and the points where they branched, narrowed or terminated were among the most significant parts of the energy system." It's for this reason that so much is at stake politically in these towns – and why a city such as Burnaby, with over 200,000 residents and in close proximity to a major metropolis, has the enormous potential to confront these projects and win.
The People's Procession
In 2012, five years after the Westridge oil spill, a small group of Burnaby residents formed an organization to raise awareness and provide education concerning the proposed pipeline expansion. Naming themselves Burnaby Residents Opposing KinderMorgan Expansion (BROKE), they created a grassroots, intergenerational, non-hierarchical organizing body made up of homeowners, retirees, former teachers, survivors of the oil spill, and veterans of the women's movement, peace movement and anti-nuclear movement.
In August of 2013, having been invited by curator Mariane Bourcheix-Laporte and Unit/Pitt Projects to create a public walk as part of an exhibition, I approached BROKE with a proposal that they host a walk along the proposed and existing route of the Trans Mountain Pipeline. My idea was that the walk could be a form of "mapping" – using our bodies moving through space, a counter-map to the intentionally insufficient and at times inaccurate maps provided by the oil companies.
BROKE saw the proposal as an opportunity to stage a major event which could build a wide network of alliances and bring needed attention to the quickly escalating situation. Following several months of research, workshops and planning, BROKE announced The People's Procession & Rally Against the Pipeline. Held on April 12, 2014, the event included a 6.5-kilometer walk along the existing and proposed pipeline route, starting on the southern side of Burnaby Mountain (just below Simon Fraser University and the KinderMorgan Tank Farm) and continuing west and north to the Westridge Terminal.
Along the way, the 300-person procession included music, dancers, performances, costumes, hand made props and signs, and a wide range of speakers. It culminated in a larger rally at Westridge Park, mere blocks away from the 2007 spill. Afterwards, as the procession made its way towards the Westridge Terminal, we stopped to make noise and visual contact with a flotilla of over 60 boats, canoes, yachts and kayaks organized by North Shore NOPE, which had gathered in the Burrard Inlet in front of the terminal's dock.
Organizers of protests most often aspire to capture people's attention; they rarely put as much thought into the direct experience of the people involved in the protest. While we intended the April event to raise awareness in the communities most directly affected by the pipeline, by steering hundreds of people through residential neighborhoods in immediate danger of spills, fires and leaks, we also wanted to create a transformative and educational experience for the people taking part.
Routing the procession along the pipeline placed an otherwise hidden and abstracted process in a physical place, making evident what was urgently at stake as we passed schools, parks, salmon-bearing streams, and thousands of homes. The march was organized to encourage other modes of speaking and acting beyond the norms of typical protest: a wide range of artists and performers were invited to participate. Rather than distracting from the seriousness of the struggle, it created a context for radical ideas and actions to take place, enfolding that could enfold seemingly contradictory feelings of celebration and antagonism.
The scope of the event shouldn't dissuade others from attempting a similar event in their own small communities. While many groups and organizations were involved in the People's Procession – including NGOs, local government, students and teachers from local schools ranging from elementary to university, artists and performers, and members of the First Nations communities upon whose traditional land the event was taking place – the event was organized by a grassroots, democratic group of residents with no political affiliation.
We lacked some of the infrastructure, financial resources and experience of other groups, but by decentralizing our process, reaching out to other groups for assistance, sharing power, and working with a broad coalition, we were able to create one of the largest protests ever seen in Burnaby. We involved many people who had never participated in political actions before, and built coalitions and relationships that will lead to a stronger and more united front against the wave of exploitative energy projects confronting communities like ours.
Our successes were rooted in alliances and the solidarity we were able to forge – much of it specific to Burnaby as a place. While some are dismissive of potential NIMBYism, they ignore the significance of building resistance based on people's passionate defense of place. Not only did this result in a form of cross-class solidarity among the residents opposing the project in their own back yards, but it began a discussion of how settlers can work alongside indigenous land defenders by committing to a place and fighting for it.
Learning as we went, we attempted to follow traditional protocol, requesting permission to stage our events on the traditional territory of the Tsleil-Waututh Nation. The Tsleil-Waututh's Sacred Trust Initiative has provided leadership in the struggle against the expansion of tankers, storage tanks and pipelines in their territory, and we were honored to work beside them.
Another unusual alliance involved the City of Burnaby itself. Taking a lead from its outspoken Mayor Derek Corrigan, the City went out of its way to support the event, facilitating access to spaces and directing the Burnaby police to keep a distance. While it's unclear what the extent of this support might look like should the project begin breaking ground and direct actions increase in intensity, at the moment it's a valuable alliance that may prefigure a more local and direct form of democracy: a relationship of dual power, directly responsive to citizens, which can act in meaningful solidarity with First Nations as we collectively address the present realities of a settler-colonial state.
For now, the Trans Mountain Pipeline is in a limbo amid government and legal proceedings – debated at the largely illegitimate National Energy Board hearings and fought in the courts.
In the meantime, a genuine people's movement is growing. It may be that Canada's latest (and hopefully last) desperate push for oil and gas wealth could inadvertently lead to radical transformations of our democracy, our relationship to land, our industrial and economic futures, and Indigenous self-determination as we fight back against the hostile corporate and colonial projects... and win.