Veterans Stand Their Ground at #NatGat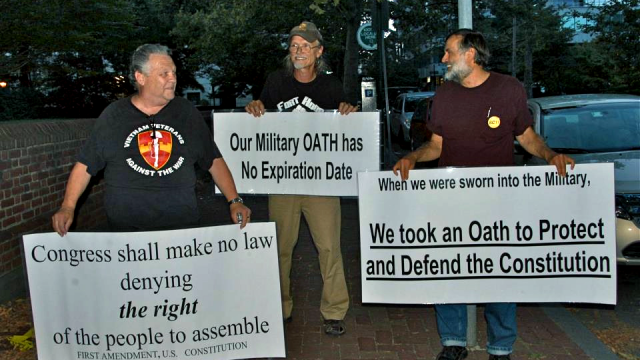 Philadelphia, PA, July 8 – Last night I saw one of the most beautiful moments of my entire 40 years on earth. Veterans for Peace and Occupy Marines acquired a permit to have a canopy and information table on Independence Mall next to the First Amendment monument. They have been there 24 hours a day since Saturday. Yesterday afternoon the National Park Service notified the veterans that their permit had been revoked and that they would be evicted from their spot in front of Independence Hall at 9 p.m.
News spread quickly among the Occupiers, who have been camping on the grounds of an historic site owned by the Quakers at 4th and Arch Streets during the night and gathering at the city-owned Franklin Square Park at 6th and Race for workshops and festivities during the day. We asked the veterans to let us know what we could do for them to stand in solidarity. They were determined not to be removed from the space that they believe their brothers in arms had died to defend so Americans could assemble, engage in free speech and petition their government for a redress of grievances.
"That tent and info table will remain there until we have been physically dragged out of the park and the National Park Service comes in with a bulldozer," one of them said. Because Independence Mall is federally owned land, any act of civil disobedience there will land you in a federal detention center with very serious charges and very high bail. Nevertheless, another veteran said, "I signed up to die for the right to stand here. Jail is nothing compared to death."
By 8 p.m. the presence of park rangers, park service and city riot police, bike cops, U.S. Marshals and Homeland Security forces began to escalate dramatically. A few minutes before 9 p.m. the veterans met with park officials at the edge of the park. It was a tense five minutes as the 20 or 30 of us who were there in solidarity awaited the results of the meeting. When the veterans from the meeting returned, a mic check was initiated and the vets announced that the park rangers would take no action until 11 a.m. the next morning, when a higher-ranking park service official would meet with them to negotiate a possible compromise. Imminent eviction had been avoided, our fate still left to hang in the hands of some unknown bureaucrat, to be determined by his or her whim in the morning.
Just moments after the announcement, a march of 400 occupiers led by a Revolutionary War-style drummer came around the corner. We ran to greet them and inform them that what had looked like it would be a massive confrontation was now a celebration. Shouts of joy rang out among the mass of Occupiers as they joined us in a now-festive celebration of solidarity with the veterans and the temporary retreat of the Park Service.
As songs, mic checks and even a hula hooper reveled on the sidewalk in front of the Vets for Peace canopy tent and info table, an extremely large contingent of police officers and federal agent remained all around us. About 20 riot police in full gear stood in formation just feet away from us, staring robotically straight ahead. The veterans asked us to move back 10 feet from the line of riot cops and promised us that the vets themselves would form a line of protection between the riot cops and us. As soon as that arrangement had been made, the riot cops turned and marched in formation out of Independence Mall, to rapturous cheers and clapping from all who had gathered.
The celebration continued for at least an hour before the veterans mic-checked us and asked anyone who wanted to remain overnight in solidarity do so by sleeping across the street, off of federal land, in front of the regional headquarters of Wells Fargo. Walking past on my way to the train for a quick pit stop at home, there were at least 30 groggy occupiers waking up from a night of sidewalk sleeping. I will return shortly and all of us, Occupiers and Veterans for Peace, will await the results of the meeting at 11 a.m. today.
It is impossible to describe the joy and beauty that I witnessed last night. I had a lump in my throat and am still beaming with positive vibes even though I, too, am exhausted after my third night of sleeping on the ground in a Quaker parking lot.