What Would Happen if Everyone Actually Did Move Their Money?
This article originally appeared on
Move Your Money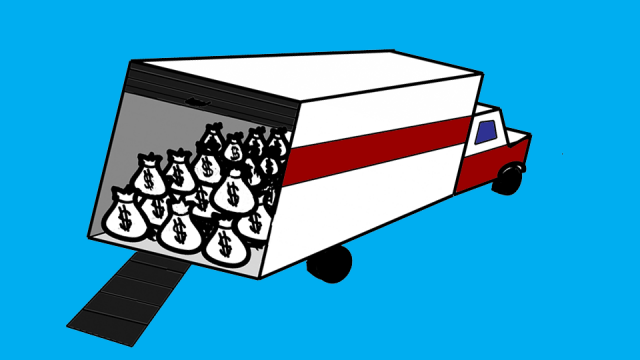 Move Your Money's simple ask – that we think about which banks we put our money into – is more than a rebellion against the excesses of mainstream banks. It's asking us to actively decide on a vision of what the future economy should be. Everything we see around us in our current economy was financed in the past, and that means that current decisions being made in the financial industry about where to steer money have profound effects on the future.
The financial system, in a sense, activates future systems of production and exchange, and commercial banks are one crucial actor in that process. So what would happen if Move Your Money was wildly successful in its aims, and managed to inspire a large proportion of the population to actually put their money into institutions such as Ecology Building Society, Charity Bank and Triodos Bank? In my new book, The Heretic's Guide to Global Finance: Hacking the Future of Money, I imagine a scenario in which that happens, and how the economy might shift over time. Here's how it would go:
The U.K. would support an extensive network of co-operatively run organic farming and food processing businesses. They would be connected globally to other networks of local food producers, sharing resources and information. There would be an intricate distributed renewable energy network, supplemented by offshore wind turbines, wave turbines, and a large-scale energy efficiency infrastructure, partly funded via the capital markets with 'green bonds.' There would be a major 'green Silicon Valley,' with top graduates applying their skills to developing hyper-efficient products, smart grid technologies and Internet 'sharing economy' technologies that reduce waste. A major source of employment would be in social business and social enterprise, judged on their ability to generate social value and meaningful employment. Poorer people would have access to financial services, including microfinance for small businesses that promote community resilience. The banking sector would support vibrant arts and culture projects, charity and third sector organizations, as well as philosophy of life initiatives. Mortgages would encourage green retrofits and energy efficient housing. There would be ups and downs, but the banking sector would make serious attempts to combine local community resilience, global equality and creative enterprise.
Sound good? It's easier said than done, of course. The current financial sector seems to prefer a future vision of environmental degradation, societal inequality and treadmill materialism, and many people remain invested in that vision without knowing it. Getting people to shift both their money, and their idea of the future doesn't happen overnight, but Move Your Money UK, and other similar initiatives around the world, are leading the way in solidifying that into a reality.
So next time someone asks you why they should shift their money, ask them two things: Firstly, what vision of the future do they want to see? Secondly, how they would invest to make that happen? It leads naturally to the simple realisation that the individual bears responsibility for helping to steer that future.
To read more about ethical banking campaigns and alternative finance, please do take a look at my book – I'm accepting alternative currencies too!
Brett Scott is a campaigner and writer who works in alternative finance and financial activism.