Exposed: Illegal Weaponry, Torture Equipment, Proliferate U.K.-Sponsored Arms Fair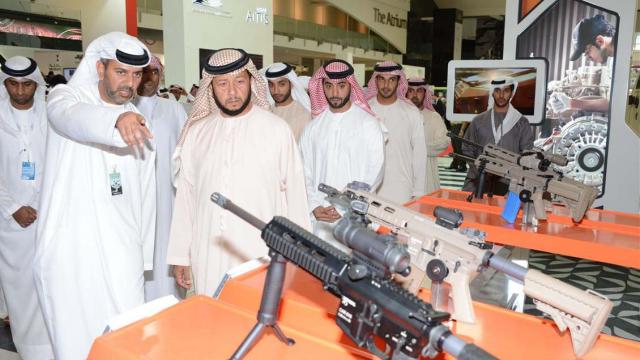 In modern war, over 90% of deaths are civilians, according to UNICEF. Oxfam statistics show that one person dies every minute due to armed conflict.
Their deaths are enabled by the multi-billion dollar arms industry that supplies despotic regimes, provides the equipment to violate human rights and includes weapons which are engineered to kill indiscriminately. Most responsibility for the global arms trade falls on the five permanent members on the UN Security Council — China, Russia, England, France and the United States — as 72% of worldwide weapons are produced by corporations from these countries.
Defense Systems and Equipment International, or DSEI, the largest arms fair in the world, exemplifies the British government's support for mass weapons production and sales. It sponsors the event and even invites countries that the Foreign Office itself criticizes for committing human rights violations.
Activists and investigative researchers have revealed that arms dealers were selling weapons and equipment banned under international law at September's DSEI fair. Those in violation were ejected from the arms fair, but no legal action was taken. In contrast, outside the event was a massive police presence aimed at breaking up anti-arms fair protests and direct actions. During the Occupy versus the Arms Fair event, nine activists were arrested and charged with obstructing the highway.
"The UK legal system is structurally unjust, encouraging behavior that is destructive to people and the planet," one of those arrested for blocking the highway, Melanie Strickland, said. "It is about the 1% waging war on everyone and the DSEI arms fair is a pure manifestation of this profit over people."
It has been confirmed at four out of the last five DSEI arms fairs that torture equipment was on sale, something that is illegal under British trading and international law. During this year's event, all it took was a statement in Parliament from Britain's first Green Party MP, Caroline Lucas, for authorities to throw out two arms dealers.
Torture equipment was also discovered during the 2011, 2007 and 2005 DSEI arms fairs.
At their preliminary hearing following the arrests at the fair, most of the activists pleaded not guilty asserting they had "lawful excuse" to block the road and attempt to stop the event going ahead. British law enables people to take direct political action and break the law, if it is judged that they are preventing worse crimes by doing so. In forwarding the argument, the activists aim to use their own trial to put British authorities' support for the DSEI arms fair under legal and public scrutiny.
One activist, who pleaded guilty in order to prevent the disruption that court proceedings would have caused in her life, read out a statement that moved the public gallery. It began:
"With all respect to the court, I have to say that today I feel sad. Because, by the standards of this upside down world, which prioritizes the rights of subsidized corporations to profit from death, destruction and terror over the rights to life and quality of life of the civilians who are killed, displaced, and separated from loved ones by war, or of the planet's ecosystems – and all those whose health relies on the health of these ecosystems, i.e. all of us – to thrive, yes, I suppose I am guilty."
By arresting the protesters on the day when the fair was setting up, police enabled companies' vehicles to continue to deliver the illegal weapons and their promotional material.
"I stopped a HGV lorry by climbing under the trailer with two other women," said Melanie of her arrest. "The police dragged us out. The police are there to facilitate lawful business and lawful protest. But their priority is to enable business as usual – which means they will use force, if necessary, to enable an industry aimed at killing our fellow humans."
Alongside the promotion of torture equipment, the DSEI fairs have also provided arms dealers with the opportunity to sell banned weapons that kill and maim indiscriminately, such as landmines and cluster bombs.
There was another indiscriminate killing machine that featured heavily at this year's event: drones. Drone weaponry took center stage in an area called the unmanned theater. The use of unmanned flying aircraft has risen greatly during the wars in Afghanistan, Iraq and the CIA's "undeclared war in Pakistan."
Currently, these weapons aren't banned although there an extensive campaign is aiming to change that. An Amnesty International report on Pakistan asserts, "Drones kill more civilians than their intended targets." The human consequences of drone warfare were explained clearly for the first time before U.S. Congress in the recent testimony given by the family of a grandmother who was killed by a drone strike.
Many arms trade activists are not just calling for tighter regulation on drones – they want the whole industry ended, period. "The Occupy vs. the Arms fair aimed to stop the event setting up and going ahead," Melanie added. "We did not do this, but instead disrupted it. In the future, we aim to shut it down completely."
The responsibility to stop the sale of torture equipment in Britain lies with Her Majesty's Revenue and Customs. Since her arrest, Melanie has filed a freedom of information request to the authority, which it is duty bound to answer. In it, she asked, "Why have arms dealers been thrown out of the past three consecutive arms fairs without any charges for these offences?"
Despite the HMRC legal obligation as a public authority to be transparent, it would not confirm or deny what had taken place, something that "does not surprise me [because] this often happens with FOI requests," continued Melanie.
"The response was completely arrogant. I am a citizen and want to know where my tax is going as it is sponsoring these events. I also want an explanation why they are not enforcing the law."
A key feature of the Occupy vs. the Arms Fair action was to challenge Britain's false claim that it requires the arms industry, for instance, in order to create jobs. Prime Minister David Cameron has repeatedly argued that the UK weapons industry is an essential part of the country's manufacturing.
The real truth, said Melanie, is that "the arms industry is heavily subsidized by a government whilst at the same time it is imposing a viscous austerity agenda at home, which is harming people in very tangible ways."
And if Britain, by some fiat, rid itself of the arms industry tomorrow?
"We could shift all those skilled engineers and scientists into careers in the renewable energy industry," she added, where "all their brainpower and the government financial support could be employed in building a sustainable just society, which is urgently needed."