'We Must Protect the Water': Indigenous Leaders and Allies Stage Sit-In to Protest Kinder Morgan Pipeline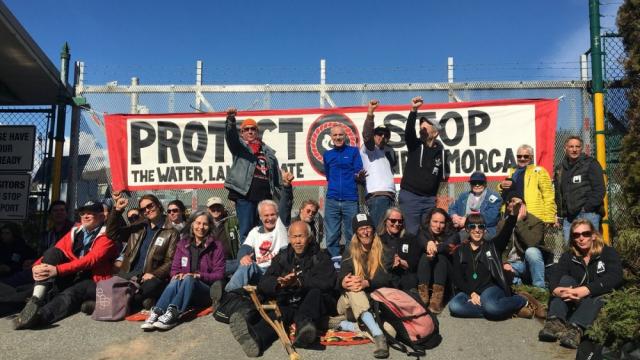 Building on the massive march against the expansion of Kinder Morgan's Trans Mountain pipeline that brought 10,000 people to the streets of British Columbia last weekend, Indigenous leaders and their allies staged a sit-in on Saturday at a pipeline construction site on Burnaby Mountain, kicking off a wave of civil disobedience that is set to continue through next week.
Chants of "I believe that we will win" rang out as police began arresting demonstrators, who ignored a court injunction to stay away from Kinder Morgan's construction activities and protested in front of a company site for over five hours.
As documented by Greenpeace Canada's Mike Hudema, dozens of Indigenous leaders and their allies sat in a line in front of a company construction site gate, with some locking themselves to the fence.
"Kinder Morgan and Justin Trudeau picked a fight with the wrong group of people," said Clayton Thomas-Muller—a member of the Pukatawagan Nation and Stop It At The Source campaigner with 350.org—highlighting the Canadian Prime Minister's support for a pipeline Indigenous groups say poses a serious threat to the water and the climate.
While Trudeau has promised to "ensure" the Kinder Morgan pipeline—which would carry tar sands 700 miles from Alberta to Burnaby, British Columbia—is completed, Indigenous leaders vowed to do everything in their power to ensure that the water-threatening project
"I'm standing up for Indigenous rights, for clean water, and for a safe, liveable climate and look forward to doing so alongside the ever growing movement against this dangerous pipeline," Thomas-Muller said in a statement.
"We are all connected by the water. If the waters are poisoned here...that water will affect all of us," said one demonstrator. "We must protect the water."
Originally published by Common Dreams