How the Public Banking Movement Hacked Cannabis Banking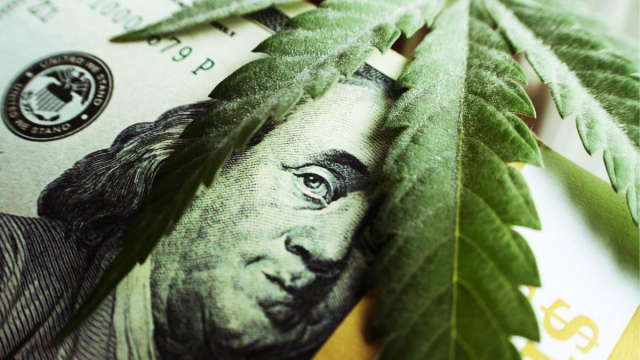 This is Part 3 in a 10-part series on public banking and economic justice. Read parts 1, 2, 3, 4, 5, 6, 7, 8, 9 and 10.
I want to tell you a true story of how persistence, commitment to well-informed policy discussion and sheer audacity can score victories in unforeseen ways.
A public bank is a bank owned by a city, state or other government entity. Democratic governments can use the lending and value-creation power of banking to support public goods, from schools and clean energy to public transportation and cooperative housing and businesses. In the last two pieces in this series, we discussed how the public banking movement has advanced all over the country; how, at its moral core, public banking is about economic justice and democracy; and how in the right kind of people's government, public banks can help us prioritize human needs over profits and build a sustainable economy that doesn't require exploiting living beings or damaging the planet beyond repair.
It's not immediately obvious what public banking and economic democracy have to do with the legalization of cannabis, but a banking problem has manifested in state-level legalization experiments. Since cannabis is illegal under federal law, revenue from cannabis commerce is ill-gotten gains. Interacting with cannabis money in any way is potentially illegal. And you can't bank money in America without encountering the federal banking system, whether you're talking about Federal Reserve oversight and access, wire services, Dodd-Frank compliance, or a list of other points of contact.
The problem of cannabis banking has been plaguing states for years, ever since states started legalizing cannabis for medical use. Congress created a workaround on medical cannabis, and the Obama administration later green-lighted ad hoc guidelines and self-restraint on the part of the Justice and Treasury departments with respect to states legalizing recreational cannabis: the Cole Memo from the DoJ, and FinCen guidelines from Treasury. Under Obama, those departments de-emphasized prosecution of entities operating in states with legalized weed, provided that those businesses and financial institutions avoided being implicated in other criminal activity.
But the chaotic and ever-shifting positions of the Trump administration with respect to federal drug policy, and Trump's vehemently anti-weed Attorney General Jeff Sessions, made it unlikely that the restraint established by the Obama administration would hold. Nobody wants to rely on the federal government saying it might not prosecute you. Sessions's later rescission of the Cole Memo further increased that uncertainty.
Earlier in the 2010s, some in the public banking movement thought public banks might present a solution to the weed banking problem. They argued that since a state-owned bank could guarantee its own assets with the full faith and credit of the state, it would be unnecessary to possess FDIC insurance. The bank would essentially be "self-contained."
This assumption was incorrect. Simply getting rid of FDIC doesn't address wire transfers of money, although the FinCen memo listed wire transfers as a red flag concern. It doesn't address money laundering statutes, violations of the Controlled Substance Act, the Bank Secrecy Act, the Racketeer Influenced and Corrupt Organizations Act, and certain provisions of the USA Patriot Act. Just creating a state-owned pot bank isn't enough.
Many public banking advocates turned away from the cannabis question to different endeavors. They saw the cannabis question as a distraction, a clouding of the room, if you will, where we ought to focus on creating basic public banks modeled on the depository/public investment blueprint of the Bank of North Dakota. It's a strong argument: Why dilute our energy?
Marc Armstrong, who co-founded the Public Banking Institute in 2011 and later started the advocacy group Commonomics USA, saw things differently. For Armstrong, this was a symptom of under-banking, of denying basic financial services to those that needed them, and the negative effects of that denial of service. It was ultimately the banks themselves that largely chose not to do business with the cannabis industry. It was never true that "no banks would work with cannabis cash." A few would, and those that do aren't getting busted, but are free to charge pretty much whatever fees they want without competition. That's unfair to small proprietors, many of whom represent communities deeply damaged by the classist and racist war on drugs.
Similarly, some money-handling agencies have developed cheats and workarounds (such as those allowing some weed shops in Colorado to accept credit and debit card payments). But those schemes have the potential to be shoddy and disappear or change quickly, creating instability for small businesses and consumers. Meanwhile, cash-only dispensaries are dangerous places to work.
Marc and his colleagues at Commonomics USA, including me, thought this was unacceptable and wanted to look more deeply at whether a public bank could provide some layer of protection – and even aid in compliance with the thin and noncommittal guidelines of Cole and FinCen. Marc argued:
"In essence, state, city and county governments will better serve their constituents and create a 'level playing field' by leveraging their bargaining power as a consortium of public banks that determine best practices. Agencies from the federal government will need to deal with the entire network/consortium, not individual private banks, providing a more balanced approach to federal law enforcement. And state, county and municipal law, based on community rights, can serve to further buttress the network of public banks."
Commonomics USA began working with groups in California to weave together the case for public banking and the protection a government-owned bank could provide, however uncertain, against the federal government. The misfire of the movement's earlier attempt to hold up public banks as a solution was forgotten. People campaigning for public banks simply believed it made sense that a community-run financial entity would empower localities, and would be unfair for the feds to use banking laws to circumvent state-level initiatives against the indefensible prohibition of cannabis.
As it turned out, Commonomics USA's and California's jump on cannabis public banking coincided with California Treasurer John Chiang's formation of the Cannabis Banking Working Group, a team of public officials, banking experts and other specialists with a mandate from Chiang to study the cannabis banking dilemma and come up with solutions. Chiang and the CBWG scheduled a series of public hearings in cities around California, calling in experts from around the country to testify on banking and controlled substances policy.
At first, the Working Group was dismissive, even passively (but unmistakably) contemptuous, of public banking as a solution to cannabis cash. John Chiang had been approached before on public banking in general, and wasn't opposed to the idea in principle, but he seemed reticent to welcoming it into a discussion about banking and federal drug policy.
Rather, Chiang said he wanted to ensure that the cannabis industry receive the same private banking services as other industries in California. We in public banking joked with Chiang a little about that in some of our memoranda at the time. Throwing an industry into the private banking lions' den? Why so cruel, and so unimaginative?
I did legal research and wrote some generalized, public-oriented legal analysis about the various strategies a state could take with respect to a public bank "shielding" cannabis cash from federal reach. Most of it, though, was either irrelevant or unrealistic as a panacea for the cannabis banking dilemma. As early as February 2017, in an email, I told my colleagues at Commonomics USA that a states' rights approach would sound irrational and put us at odds with civil rights and other groups that rightfully distrusted strong states' rights arguments.
I wasn't surprised when other legal researchers disagreed with that portion of our analysis, and ultimately I came to realize how few of the legal arguments I'd researched really mattered. Given the deference to federal jurisdiction on weed after the Supreme Court's decision in Gonzales v. Raich, a public bank would start a good fight and possibly make the feds back off, but could not guarantee to fully protect proprietors, banks and consumers from federal action.
In fact, the Federal Reserve may not even decide to issue an all-important master account number to banks taking cannabis money. In the end, I wasn't going to promise anything from my legal conclusions except that there were issues we could fight about. And I recommended that we fight – but for political reasons, not legal ones.
Making political demands was, in the end, exactly what people in the California public banking movement did in their public comments at Cannabis Banking Working Group sessions, in OpEd pages and radio interviews, and ultimately when Armstrong and I testified before the final Working Group session in Los Angeles in August 2017 – a session entirely devoted to public banking.
Wait a second, you're saying. How did that even happen? The Working Group had made every indication it wasn't interested in public banking.
Well, there may have been other factors involved in Chiang's decision to devote an all-day meeting to discussion of public banks, but I believe one important component was the persistence of people in the public banking movement. We kept showing up. We wrote line-by-line analysis of Working Group sessions and pointed out the places where discussion of public banks would have been appropriate.
By the time Armstrong and I offered testimony in August, public banking had become the center of the cannabis cash discussion. Having concluded that most of the legal arguments on cannabis and banking per se were longshots, we were honest in arguing that California should create a public bank and take cannabis money simply to stand up to the federal government. We said:
"A public bank acting as a necessary public utility that provides banking services to [marijuana-related businesses], to the unbanked and underbanked, and for lower cost infrastructure and commercial financing, can help California use its status as a global economic power, and its huge economies of scale, to create the appropriate financial infrastructure necessary for this undertaking. The decision to create such a bank as a solution to the cannabis conundrum would send an unprecedented signal to the world that California is stepping into a new cannabis economy and a banking economy that meets the needs of all Californians, businesses no matter the industry, and municipalities."
In other words, we said California should just stand up and demand sovereignty on weed banking, forcefully negotiate with the Federal Reserve for a master account number, and stare the feds in the face. Either the feds would blink, or there would be a glorious fight. Call us public banking accelerationists. We wanted people to want to fight.
We wanted to fight because we'd been working with feisty activists from around the state. After weaving together the public banking and cannabis movements, we learned that people from the banking and fossil fuel divestment movements were also getting into public banking, as an alternative to cities and counties investing money in Wall Street banks. Suddenly there was another element in the struggle, and we all believed that the answer to unsafe cannabis cash, irresponsible private banking, and economic inequality could be found in the democratization of banks.
So there we were in Los Angeles, giving testimony, basically advising the Working Group that California could start a state bank, or a network of more local public banks, as a way of saying "F*** YOU" to the federal government. During subsequent questioning by the Working Group, at least one member recognized the potential value of such a bluff, speculating that in the face of the 6th largest economy in the world taking on cannabis banking, the feds may well move to de-schedule and legalize cannabis. Exactly.
Other folks presented other good ideas at that final Working Group session. As I left that day, I tweeted: "Regardless of outcome of this historic mtg on #publicbanking, everyone's thinking differently about banking now. We (the movement) did this."
Several weeks later, Chiang and the Working Group released the group's recommendations based on its year-long series of hearings. A study of public banking was at the forefront of those recommendations. We had pushed public banking all the way up the hill – from an embarrassing idea relegated to the cellar, to the flagship recommendation of the Working Group.
Several weeks after that, the federal government started to blink, indicating it may allow banks to take cannabis money deposits. And just last week, leading Senators came out in favor of legalization. The resolve of California, including a willingness to study banking alternatives, surely played a role in this policy evolution.
There are so many lessons to draw from this story. The most obvious ones are: Tie issues together, think systemically and be audacious. Keep justice for all as your bottom line, your foundation. And don't give up, even when it seems like current law isn't on your side, and when public officials initially dismiss or marginalize your ideas. Just keep going. Just keep going.
READ PARTS 1, 2, 3, 4, 5, 6, 7, 8, 9, 10
Matt Stannard  is Policy Director at Commonomics USA and a member of the Public Banking Institute's Board of Directors. Matt Stannard writes about cooperative economics, law, politics and culture. His blog is Cowboys on the Commons. Click to read more by Matt on Occupy.com.