Seizing the Public Banking Moment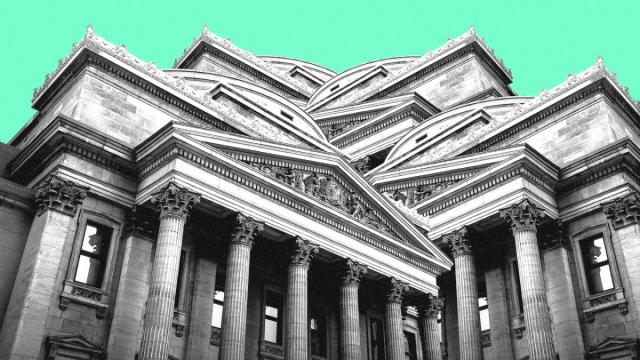 This is Part 1 of a 10-part series on public banking and economic justice. Read parts 1, 2, 3, 4, 5, 6, 7, 8, 9 and 10.
The free market has failed as a governing paradigm of material life. Whatever the case for local markets in their specific context, large-scale competition and hierarchy are destructive, trauma-inducing conditions for people and the planet. For centuries, people have pushed back against those competitive and hierarchical models, advocating and experimenting with more cooperative and ecologically holistic economic visions.
One of those visions is financial democracy: public or community control of the financial system itself. Recognizing that the generation and value of money are artificial, and that how we pay for things is fundamentally a political question, advocates of financial democracy see banking – the power to lend money and to create value through the act of lending – as an enormous power. Such power should be democratic, not autocratic.
Subject to democratic control and administration, where the body politic is committed to egalitarianism and sustainability, banking could do great public good. Public banks can help save the planet from apocalyptic climate change by financing a quick post-carbon transition. They can guarantee employment in communities, facilitate the payment of dividends directly to citizens as a form of universal basic income, and ensure that state and municipal budgets are always healthy.
A network of public banks could help create a network of clean, efficient public transit. Public banking can replace, and thus destroy, every socially destructive banking practice, from the gambling of pensions and public funds in risky investments and complex debt swaps, to predatory payday lending. Assuming we need "money" at all (a debatable question for sure), public banks promise to be the smartest, most sustainable, and most ethical way to manage finance.
The public banking movement has sputtered through the last eight hundred or so years, from medieval and colonial-era church banks, to the Paris Commune's plan in 1871 to have people's banks fund worker cooperatives, to the victory of North Dakota's farmer-socialist Nonpartisan League in the early 20th century. A few countries, notably Germany, have implemented successful public banking policies with positive social effects. America has had more stops than starts, with North Dakota currently being the only state with a (modest and pretty conservative) public bank.
But since the financial crash of 2009 and the Occupy movement of 2011, public banking has gained momentum in over 30 states and dozens of cities. Specifically in the last two years, perhaps in response to the Trump campaign and his presidency's marriage of fascism and finance capital, the public banking movement has scored monumental advances on both the east and west coasts.
 
The Moment
California is on the brink of a financial revolution that is deeply embedded and shudderingly alive in all corners of that state's huge economy. The cannabis industry has thrown its support behind public banks, and the normally cautious State Treasurer John Chiang has demanded a feasibility study for a public bank. Meanwhile, large and diverse groups in cities including San Francisco, Oakland and Los Angeles have successfully pushed for divestment from big banks like Wells Fargo and the exploration of public banking. Across the state, city councils are passing resolutions, commissioning studies and forming working groups.
On the other side of the country, the most promising development is the election of New Jersey's new governor, Phil Murphy. Murphy was elected in part because of his promise to create a state-owned bank and he is now the nation's most powerful public official to advocate public banking. Following Murphy's lead, Democratic state senators recently introduced the State Bank of New Jersey Act, which is currently sitting in the Senate Commerce Committee.
Activists in other states are hard at work pushing the agenda. Momentum is growing in New York, where a handful of elected officials over the past few years have committed to the cause, and where one prominent advocacy group is hiring a full-time public banking campaign organizer. In Pennsylvania, the city of Philadelphia has fired Wells Fargo and well-organized advocates continue their years-long campaign for a state- or city-owned bank. And Massachusetts has just introduced a new public banking bill; like California, the state is looking to public banking to address its cannabis revenue challenges.
Back out west, in Washington, state senators Bob Hasegawa and Patty Kuderer are championing the cause, while in Alaska, representatives Scott Kawasaki and Chris Tuck recently filed legislation to create a state bank with a mission very similar to the Bank of North Dakota. Another BND-style bill was just introduced in Michigan by state Rep. Martin Howrylak, a Republican.
While most of the proposals around the country are for state-run banks, several municipalities are proposing public banks, too. Cooperative banking is part of the bold solidarity economy agenda in Jackson, Mississippi, a piece of the blueprint of Cooperation Jackson. California's movement is propelled in part by a drive for a "network of municipal banks" under a common license. The City of Seattle has committed to spending $100,000 to study the creation of a public bank, while in Saint Louis, Board of Aldermen President Lewis Reed recently introduced a resolution for a task force on public banking.
 
The Struggle
The road getting here hasn't been easy. There have been setbacks, instances of inertia or outright official rejection. Recent examples include Santa Fe, where a movement with real momentum has been smacked down by a task force of hostile members, exacerbated by Mayor Javier Gonzales's retreat from his initially enthusiastic support. The state government of Colorado has been unsympathetic to the call for public banking, although demand is growing in both Denver and Boulder.
Meanwhile, the movement for public banking continues unabated in Vermont despite having the wind taken out of its sails a few years ago. And in Maine, a vocal advocacy group continues to reach out to the state's elected officials even after repeated rejection by legislative committees. New Hampshire, Hawaii, Oregon, Illinois and other states have had similar experiences, pushing for public banking legislation that ultimately got exiled in committee – coming close to making a case only to have Wall Street lobbyists generate sufficient noise to confound risk-averse public officials.
In fact, the question of banking reform – and particularly of banking as a public utility – is best seen as an ongoing site of struggle. Right now, the fight is between a solidified status quo propped up by well-funded think tanks, big bankers, and self-deceiving community bankers on one side, and a growing people's movement on the other. But banking will not cease to be the site of struggle once states and cities begin to establish public financial institutions.
Citizens concerned with economic justice and ecological sustainability will have to fight to keep their new public banks from following North Dakota's example, in which the state used the power of its public bank to prop up environmentally destructive energy practices and crush dissent at Standing Rock. Public banking advocates will also have to stay on guard against attempts by private financial firms to "partner" with public banks in ways that distort their priorities.
 
The Challenge
For now, the challenge for public banking advocates is to remain undeterred and demand the creation of public banks. The experiences of California and New Jersey and the encouraging signs elsewhere suggest that we are closer than we've been in a long time to seeing public banks become a reality. It's also quite possible, on the other hand, that these myriad efforts will still fail because of pushback and influence from Wall Street bankers, complacent and ideologically fogged-up community bankers, and think tanks like the Cato Institute, armed with badly-researched but well-funded arguments.
Therefore, in order not to fail, the movement must gather critical mass. Cities and states with public banking supporters numbering in the hundreds need to gather enough people together to number in the thousands and, ultimately, the tens of thousands. That can only happen if the public banking movement establishes itself as an integral part of a larger movement for economic, social, racial, gender and ecological justice. A transition from Wall Street banking to public banking is a paradigm shift, not merely a policy shift. Only mass movements can shift paradigms.
In other words, it's not enough for public banking to be a good idea. It's not enough to have a few engaged citizens sitting down with elected leaders and convincing them it's a good idea. Politics isn't a debating contest. Being correct isn't enough.
Over the next ten weeks, this series will discuss the way the movement for public banks and cooperative modes of finance have succeeded and failed in the past, and what it's going to take for such a movement to succeed now.
READ PARTS 1, 2, 3, 4, 5, 6, 7, 8, 9, 10
Matt Stannard  is Policy Director at Commonomics USA and a member of the Public Banking Institute's Board of Directors. Matt Stannard writes about cooperative economics, law, politics and culture. His blog is Cowboys on the Commons. Click to read more by Matt on Occupy.com.