Public Banking Comes to the Territories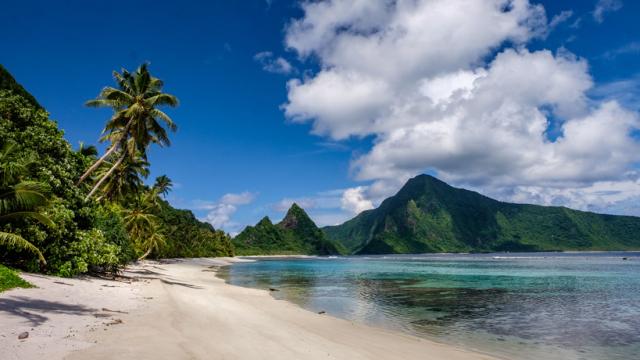 This is Part 9 in a 10-part series on public banking and economic justice. Read parts 1, 2, 3, 4, 5, 6, 7, 8, 9 and 10.
We've examined the movement for public banks at municipal and state levels. We've also examined the one popular model of a federal public bank: postal banks. But the public banking movement was taken by surprise in 2018 when the first government-owned bank in a hundred years appeared on American Samoa, a federally-run seven-island subnational territory in the South Pacific.
It makes a lot of sense. We've discussed how public banks can lift communities out of poverty by lowering the costs of public services and concentrating investment in local businesses. America's non-state territories are stark studies in poverty. Residents of these non-states serve the U.S. empire but are not served by its government. Rules apply differently to these territories. Financial regulations, already weak nationally, are weaker and protections fewer.
Recently, Puerto Rico became a horrifying case study in this marriage of neocolonialism and neoliberalism, when the absurdly dysfunctional and racist Trump administration failed to provide adequate short- or long-term assistance to the island during and after Hurricane Maria.
Prior to the devastation of the hurricane, Puerto Rico had been devastated for years by American finance capitalists. Wall Street hammeredPuerto Rico with bad bond deals for years, stealing many islanders' life savings with risky bets and bad advice, then taking advantage of laws forcing the territorial government to pay off debts faster than state and municipal governments are required to pay. Stateside politicians forced the government to privatize many services, promising savings that never materialized.
In the years leading up to Maria, half of Puerto Ricans were in poverty and the government had unmanageable debts and dying infrastructure while American investors had made millions from the island's triple-exempt bonds. The resulting lack of infrastructure and dependence on an indifferent federal government was a huge part of the reason why 4,600 people died in the wake of the hurricane.
Economic hierarchy is murder. Economic empowerment is the cornerstone of self-rule, community power and democracy. America's non-state territories lack that self-rule now, and the impacts are devastating.
A New Public Bank in American Samoa
Like Puerto Rico, American Samoa is an unincorporated territory. Acquired in a quick deal made with Germany, the federal government has similarly neglected American Samoa. Once a critical trade post and later a military base, the islands were not ransacked by the financial industry, but the territory hasn't benefitted from its dependence on the U.S. The territorial government has more autonomy than it used to, but little real power.
Federal minimum wage laws don't apply, and half of American Samoa's residents live below the poverty line. Life expectancy of American Samoans is four years less than mainland Americans.
In 2012, the private Bank of Hawaii bailed on American Samoa because its profits weren't high enough there. This put Samoans in a position similar to the millions of other Americans who are unbanked or underbanked, but even worse because there was literally no way for the islanders to access financial services anywhere. With no credit cards and very high wire transfer fees, islanders were living in a cash-based system that didn't even have a lot of cash, and all this was hurting individual residents and their local government.
After American Samoa went about five years without a commercial loan being made there, the territorial government asked for authorization to open a public bank, modeled after the Bank of North Dakota in that it would be a governmental depository and finance public works, but also facilitating retail banking services so that residents could remit money and participate in payment systems. The Federal Reserve of San Francisco approved the bank and for many parts of the territory this is the first time people have had access to payment systems in the U.S.
The Territorial Bank of American Samoa will also be subject by statute to intensive oversight. Board members will disclose their personal financial interests or connections to businesses that do business with the bank. Bank administrators will be subject to removal not only if they are malfeasant, but if they do not act on knowledge of other officers' violations of law or the bank charter.
The public bank isn't going to give American Samoa true democracy, economic or otherwise, but it will help people on the islands forge a better quality of life on their own terms. The public banking movement will have the opportunity to listen to stories and study results.
District of Columbia: Fighting for Statehood and a Public Bank
The District of Columbia is a federal district ruled directly by Congress, with limited provisions for self-rule. As everyone knows, residents of D.C. have no direct representation in Congress, but Congress has ultimate jurisdiction over D.C. The feds have granted D.C. limited home rule that can be overturned at any time. D.C voters want much more than that: In November 2016 they voted overwhelmingly for statehood in an advisory referendum. At that time, the City Council adopted a resolution proclaiming that "D.C." stands for "Douglass Commonwealth," after Frederick Douglass.
The District of Columbia has struggled with poverty and racism for decades, and the rate of poverty is higher now than it was a decade ago. Wages have dropped, and the District has "one of the largest income inequality gaps in the country," according to the D.C. Fiscal Policy Institute.
For years now, a dedicated band of activists at the D.C. Public Banking Center have been publicizing and pushing for a public bank, where D.C. tax and revenue would be deposited, the bank would process payments for city government expenses, and issue loans, invest in secure bonds, and provide other financing services to reduce the cost of short-term borrowing. Like a growing number of public banking advocacy groups, DCPBI has a very specific vision of a bank charter dedicated to ending speculative investments, building "an environmentally sustainable D.C.," and facilitating affordable housing. The charter envisioned by DCPBI also provides that lending priorities be set by a public participation process – financial democracy in realtime practice.
With a public bank popping up in another federal territory and energetic steps being taken a growing number of states, the District's government has heard the call. In May and June of 2018, the D.C. Department of Insurance, Securities, and Banking held hearings on establishing a public bank in the District. You can hear the recording of the hearings and view the slides from the presentation – which were obviously modeled on the work at the Public Banking Institute and DCPBC – here.
Ultimately, a confederation of truly equal and mutually cooperating governments, each with democratic power over their currency and economic systems, would be an ideal facilitator for decolonization and emancipation. In the meantime, public banks in these territories might at least provide an anchor for the survival and security of their populations and help all of us learn more about how economic democracy works. Public banks may provide baby steps to decolonization.
READ PARTS 1, 2, 3, 4, 5, 6, 7, 8, 9, 10
Matt Stannard  is Policy Director at Commonomics USA and a member of the Public Banking Institute's Board of Directors. Matt Stannard writes about cooperative economics, law, politics and culture. His blog is Cowboys on the Commons. Click to read more by Matt on Occupy.com.